Click button below to get Verified AirDNA Promo & Discount Code…
AirDNA Promo Code
Get Your 50% Off AirDNA promo code NOW! Limited time so don't wait! Click red button to apply discount!>>
**As an Amazon Associate, Rentalrecon.com earns from qualifying purchases.
Whether you're a newly minted short-term rental host or a seasoned property managing pro, pricing your rental is never an easy task. It's not a "set it and forget it" type of deal, after all! Markets are fluid and can change at the drop of a hat, so your pricing strategy needs to be quick on its feet to keep up with supply and demand. 
That's where AirDNA comes in! Utilizing strong, data-driven analytics, AirDNA helps host and property managers see what others are charging in their area and how well they're doing at a set price point. It gives occupancy data and estimated revenue for short-term rentals near you so that you can feel confident in what you charge and how you charge it. 
What is AirDNA?
AirDNA is one of the many pricing tools that have sprung up in recent years that are designed to help short-term rental owners and operators maximize their business's efficiency and revenue. They harness the power of complex data to provide you with concise, actionable insights into the rental market in your area. 
AirDNA: Analytics/ Research Tool for Airbnb Hosts
AirDNA is a powerful analytics and research tool that helps hosts analyze rental markets and trends. This valuable data will help hosts price their properties competitively for their area, or help them make informed decisions when buying new properties.
PROS
Real Time Pricing Strategies
Forward-Looking Forecasts
Varied Pricing for Every Budget
CONS
Charge Market Minder Accounts Based on Market Size
Doesn't Offer Automated Pricing Options
AirDNA Market Minder Features
Market Minder is one of AirDNA's most popular features, and with good reason! By consolidating data from local, competing rentals, AirDNA gives hosts recommended pricing strategies in real-time. You're able to compare the performance of your rental with others nearby, and you can see tiny (yet important) details such as when guests are likely to book at the last minute and when they're willing to pay a premium for a space to stay. 
One of the coolest things about Market Minder is that it uses an algorithm to "predict the future" and give you insights into which dates are being booked up to six months out. This allows you to adjust your pricing model in order to maximize occupancy and revenue well into the future. 
AirDNA Tiered Pricing
AirDNA utilizes a tiered pricing model so that hosts and small business owners can pay for the level of service that they truly need. This is great, since it isn't cost prohibitive to single hosts like some competing services. It also allows larger property managers, or even companies, to harness the power of the data-driven service to increase revenue proportionately.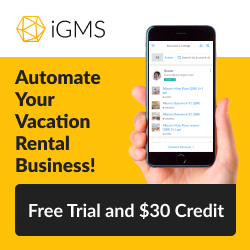 Level 1 (for markets with less than 100 active listings) starts at $19.95 a month and registration is always FREE! Level 2 is $39.95 per month and is for markets with between 100 and 1000 active listings. Finally, Level 3 costs $99.95 monthly and covers markets with more than 1000 active listings present. If you ever need to, you can cancel your subscription anytime, no questions asked. 
AirDNA sounds like it is marketed towards Airbnb hosts, but it can also be integrated with Zillow, HomeAway, and VRBO data to help you stay on top of the rental game across the board. 
What sets AirDNA apart from the rest?
First and foremost, not many other pricing strategy services let you look at details with as much specificity as AirDNA does. You can use interactive maps to take a virtual tour of your area and find out what other hosts are charging (and when). Use this powerful feature to get a leg up on your competition!
I like that AirDNA doesn't charge a flat fee like some of their competitors. The fees that they do charge might be slightly higher on average, but in my opinion, they are still a great deal for what you pay for. 
Another thing that I appreciate about the pricing model is that each tier comes with the same benefits and perks. You don't need to pay more to get more! They all provide, according to AirDNA's website, "Real-time pricing insights, historical market performance trends, property-level occupancy rates, and revenue, and Airbnb property benchmarking". 
Want a more in-depth look at how AirDNA compares to one of its main competitors, Mashvisor? Check out my thorough review HERE!
Is AirDNA right for me? How do I get my FREE Trial?
AirDNA is FREE to register! After that, subscription fees automatically renew each month and can be canceled, hassle-free, at any time. AirDNA is the perfect tool for those looking to make use of a mathematically-driven data analytics tool to take their vacation rental business to the next level. You won't be disappointed in what they have to offer, I can guarantee it!
AirDNA Promo Code
Get Your 50% Off AirDNA promo code NOW! Limited time so don't wait! Click red button to apply discount!>>
---
Check Out Our Other Articles on Rental Recon:
---
Rental Recon Tip: Unsure if you're pricing your Airbnb well? Price management tools are here to help! Don't be afraid to shop around and find the tool that fits your needs and your budget. After all, every situation is different, and the offerings of each website, company, or app might differ as well.