---
---
I was a guest in a little Airbnb near Amsterdam. Arriving jetlagged and exhausted, and having hiked about the city before traveling to the Airbnb, I wearily climbed the narrow Holland stairs, showered, and slid between the luxurious European sheets. Oh, bliss!
Those sheets inspired me to create a similar experience for guests staying at our own rental.
So what are the 7 best sheets for Airbnb hosts?
We'll go into more detail about each of our selections below. Please note that not every sheet listed is the right choice for your listing – take time to assess your guest's needs before purchasing sheets.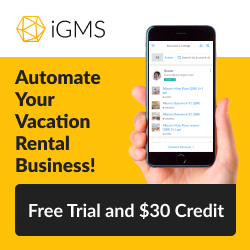 ---
Threadmill Home Linen 500 Thread Count Sheets
These 100% Cotton Sheets are what I use in my rental. They have traditional 2-inch stripes with a sateen finish. At 500 thread count, they wear well and last a very long time.
If I do need to match them, they are an industry standard and can be easily found and matched. I like the blue sheets but, with white sheets, you don't need to worry about fading. These sheets can be too warm in southern climates.
Take a look at the Amazon reviews for the Threadmill sheets HERE.
---
Superhost Tip: I like to keep at least two sheet sets available for each bed so that the cleaner can quickly make the bed while the dirty sheets are being washed and dried. Then the laundered set is ready for the cleaner after the following guest.
---
Hotel Sheets Direct 100% Bamboo Bed Sheet Set – Soft as Silk
These 100% Bamboo Sheets are an excellent alternative to cotton sheets. These sheets are a 1,600 thread count and are made from rayon derived completely from bamboo – a renewable resource.
They're also hypoallergenic making them a top choice for those with allergies. They also stay cool, which is needed if you have a foam mattress in your Airbnb.
Hotel Sheets Direct 100% Bamboo Bed Sheet Set - Soft as Silk (King, Navy Blue)
1 new from $52.97
Free shipping
Features
LIKE SLEEPING ON A CLOUD - Super soft and light. Once you have tried our bamboo sheets, you won't want to sleep on anything else. It is a blessing and a curse! A lot of our reviews are from repeat customers that leave a review when they come back to buy another set
100 PERCENT BAMBOO - Made out of 100% Viscose Derived from Bamboo, Other sheets that claim to be bamboo have more microfiber and cotton than actual bamboo. We use certified 144gsm 60x40 173x120 bamboo fibers which is the highest grade out of 6 grades
ANTI-PILING and ELASTIC ALL AROUND- Fits mattresses up to 15". We use the best quality bamboo fabric to provide the softest sheets without piling. Top marks for anti-piling by SGS in the bamboo sheets category.
GO GREEN- Pure bamboo sheets are hypoallergenic, thermoregulating (cool when its hot and warm when it is cold), and eco-friendly.
90 DAY WARRANTY- If you aren't satisfied with our sheets for any reason, return them for a full refund within 90 days. We are a USA seller and respond to most questions within hours. Set contains fitted sheet, flat sheet, and 2 king size pillowcases measuring 20x40"
Take a look at the Amazon reviews for the Hotel Sheets Direct HERE.
---
---
Moonstone Authentic Organic Cotton Sheet Set
These Organic Cotton Sheets have a 1,000 thread count and come in classic solid colors. These are a percale weave rather than sateen. Percale sheets are crisper and matte (think of a classic men's shirt) and they are usually warmer in the winter.
I appreciate the large thread count. These sheets should get softer the more they're washed. Percale cotton sheets do wrinkle easily, something you can avoid with the prior two selections.
Moonstone Authentic Organic Cotton Sheet Set fits mattresses up to 15" deep 1000 TC Color-White Solid Size Queen
Features
1000TC pure Organic cotton
PERFECT FIT: The set includes one flat sheet (90 X 102 Inches), one fitted sheet (60 X 80 Inches) with 15" inches deep pocket and two pillow cases of (20 X 30 Inches). The set offers you a perfect fitting with the best quality elastic and pure high end fabric.
LUXURY: These bedsheets are made by the premium quality long staple 1000tc fabric which gives the sheets the most luxurious feel. The Organic cotton used offers you the all season bed spread. No chemical used and these sheets are super safe.
FINEST STITCH: The sheets and the pillow cases are crafted by the experts giving the look that is classy and marvellous. The simplistic design gives your bedroom the look that is like most of the hotel collections.
GUARANTEED QUALITY: The best quality fabric is used for your bed sheets. The entire set goes through a series of quality check before being delivered at your home. We assure you complete satisfaction in terms of the fabric which gets softer and does not fade.
Take a look at the Amazon reviews for the Moonstone sheets HERE.
---
---
Poppy & Fritz Flamingo Geometric Cotton Sheet Set
If your décor calls for something more whimsical Poppy and Fritz comes through with these pink flamingo percale sheets. They only have a 200 thread count but are charming.
There are some styles available with tennis rackets, nautical themes, or fishing themes. Consider these if your Airbnb is near a Florida beach!
Poppy & Fritz Flamingo Geometric Cotton Sheet Set, Queen, Pink
6 new from $50.45
1 used from $26.05
Free shipping
Features
Sheets are T200, 100% cotton percale
Set includes flat sheet, fitted sheet and 2 pillowcases
Fitted sheet has elastic on all sides for better fit
Sheets measure flat 102x90, fitted 80x60, case 20x30
Machine washable, tumble dry
Take a look at the Amazon reviews for the Poppy & Fritz sheets HERE.
---
Check Out Our Other Articles On Rentalrecon.com:
---
Sonoro Kate Bed Sheet Set Super Soft Microfiber 1800 Thread Count Luxury Egyptian Sheets
These 1800 thread count microfiber sheets hit all the marks for Airbnb hosts. They are super-soft, high thread count, hypoallergenic, fade-resistant, stain-resistant, and wrinkle-resistant.
The sheets are cool to sleep on and don't lose their softness after multiple washing/drying cycles. They fitted sheet is deep and will wrap around most mattresses without needing clips. The sheets are also delivered in high-end luxurious packaging. Some reviewers did say that the sheets were a little thinner than they expected. But these definitely make the list of best Airbnb bed sheets!
Take a look at the Amazon reviews for the Sonoro Kate sheets HERE.
---
European Made Pure Linen Sheets Set
European Made Pure carries a reasonably priced linen sheet set. Linen is made from flax and has a rougher texture than cotton sheets, but many people absolutely love them.
These are organic and hypoallergenic. The weave is wider and therefore the sheets breathe more while still insulating the body.
They tend to wrinkle and should be washed several times before use. The more they're washed, the softer they'll feel.
European Made Pure Linen Sheets Set (Flat, Fitted and 2 Pillowcases). 100% Fine Organic and Natural Flax (Full, Viridian Sage)
Features
Remarkable durability and longevity. Linen is 30% stronger than cotton
Temperature Regulation. Linen is ideal for warm and cool weather
An eco-friendly material crafted from organic plant fibers, linen is biodegradable and hypoallergenic
Our linen is made of 100% Organic European Flax carefully woven and stonewashed for softness
Set Includes 1 flat sheet,1 fitted sheet and 2 pillowcases. Fitted sheet is 16" deep
Take a look at the Amazon reviews for the European Made Pure sheets HERE.
---
Eddie Bauer Clever Fish Sheets
Do you rent out a fishing cabin or trailer? Choose sheets that bring the outdoors inside with patterned acorns or pine boughs and consider using flannel sheets to combat cooler temperatures like these clever fish sheets by Eddie Bauer.
Eddie Bauer School of Fish Flannel Sheet Set, King
4 new from $39.44
Free shipping
Features
100% cotton flannel
LUXURY AND COMFORT: Experience the comfort and coziness of Eddie Bauer flannel sheet sets Our flannel is developed using an 8-stage brushing process. This process enhances the softness of the sheets and eliminates pilling. With each washing the sheets become even softer and cozier. The will also wick mositure away from the body as they are very absorbant.
ULTIMATE WARMTH- Flannel is known for it warming properties, they are perfect for layering. If you get too warm use just the flat sheet or the fitted sheet in order to maintain the perfect balance for your best sleep.
UNIQUE DESIGNS- Enjoy our signature Eddie Bauer designs featuring iconic plaids and novelty prints. They work back perfectly to our Eddie Bauer bedding collections.
SECURE FIT- Our fitted sheet is designed with elastic around the entire sheet, this ensures a snug fit and keeps it from slipping off of the mattress. Our sheets have a 15" pocket that fit up to an 18" luxury mattress. King size inlcudes flat sheet 108x102 fitted sheet 78x80, 2 king pillowcases 21x40
Take a look at the Amazon reviews for the Clever Fish sheets HERE.
---
What Does Thread Count Mean for Airbnb Guests?
Thread count is important to Airbnb Guest, so much so that we advertise our sheets thread count on our description of our rental. We find that thread count is the ultimate way to ensure that our sheets are the highest quality. Here are a few facts about thread count:
Thread count is the number of threads interwoven in a square inch. Schweitzer Linen has a guide that explains that a higher thread count usually results in a softer and heavier sheet.
It's generally a good idea to buy sheets that are over 200 thread count, but the quality of the thread matters as well as the thread count. Make sure you feel the sheet before you buy it.
Larger thread counts are achieved by twisting two threads together. Sometimes this is called a two-ply thread count. Often this is done to give the sheets a dense, satiny feel. Twisting good quality thread also helps the sheet hold up to wear and tear better as the thread fibers are better protected.
Cheaper sheets with a low thread count are more likely to pill in the dryer. Pilled sheets are an announcement to your guest that you don't know how to purchase good sheets or you don't care enough about their comfort to do so.
Sheets with a low thread count quickly become threadbare and require more repair. I've learned over time that poor quality sheets tend to rip or tear at the seams.
Mentioning the high thread count of your sheets in your listing can also encourage tentative or first-time visitors to view your rental as a comfortable place to stay.
How Do You Wash and Maintain Airbnb Sheets?
This question depends quite a bit on the type of fabric used. I'll be answering it based on your average cotton sheet. Dyes and other factors may affect the wash-ability of your sheets so please use the manufacturer's directions if they conflict with mine. Below are general instructions:
Most sheets should be washed in hot water and dried on low heat.
You can extend the life of your sheets if you line dry them. If you have room and it doesn't block your rental's view, dry sheets on a clothesline. I find that the wind often shakes out the wrinkles.
Use a mild, scent-free detergent to protect your guests with allergies. There is nothing worse than expecting a good night's sleep and waking up itchy or with a rash. Learn from my experience…the bedding I thought was beautifully scented sent one guest packing!
Learn how to treat stains. Airbnb stains on sheets can be difficult to manage. I use this handy stain removal chart published by Martha Stewart. Guests sometimes bring things into bed that you wish they wouldn't, such as food, drinks, and dogs! Be prepared to deal with messes.
Make sure you have a minimum of two sheet sets per bed. This ensures you can switch out sheets if they're damaged or dirty and helps in quickly changing your guest beds between guests without waiting for the laundry to finish.
Organize your linen closet or storage space. I like to fold all my sheets and pillowcases around each other like a taco and place them in the bottom drawer of the dresser in the rental, but other people prefer a linen closet or to even hang sheet sets on wide hangers in the closet to keep them crease-free. Whatever you do, keep your sheets neat, clean, and out of the way.
How Do You Choose the Best Sheet Style for an Airbnb Rental? Are Airbnb White Sheets Best?
Décor can be very important for your Airbnb rental. Some Airbnb's that I've personally stayed in had themes or were designed around the activities offered in the community. Depending on the purpose of your Airbnb, your sheet choice may add to your décor or seem out of step with the rest of the rental. Here are a few questions that may help you determine the style of sheet or material it should be made out of:
Is your Airbnb in a city or country setting? Country roads are muddy and dirt can be tracked in and end up on your sheets. You'll want to avoid silk or satin sheets as they can snag and take special care. Linin sheets are the most durable and would stand up to damage from sand or dirt. If your rental is in the city, consider a high luxury sheet in modern colors and prints. Geometric patterns create interest and can accent a midcentury décor.
Do you rent to guests in town for sporting events? See if you can find sheets with the local team's logo printed on it. This could be a fun touch for a die-hard fan.
Do you have a special feature on your property that you'd like to reflect? If you're renting a room in a Victorian house surrounded by flower beds, floral sheets with lace-edged pillowcases would be an excellent choice or you could choose sheets with embroidered edges.
Are you near a body of water? A nautical themed room could be easily achieved by using solid red, white and blue sheets on all the beds or choosing navy striped sheets.
Whatever your décor is, try to accentuate it with your sheet selection. If you're unsure, you think your décor may change, or you just want a clean and elegant look – you can always choose hotel-style white sheets.
Keep in mind that whatever you choose, be sure the sheets are of the best quality that you can afford. Just like my experience in the Netherlands, those sheets will be part of your guest's memories of your Airbnb and may impact their reviews. Clean, crisp, luxurious sheets can make a normal bed feel like a spa-like vacation to your guests. The more tired they are on arrival, the more they'll appreciate the attention you give their sleeping arrangements.
---
Related Questions:
How Do I Repair Airbnb Sheets?
Bottom line…. Don't. Just go buy a new set of sheets. It's not worth your time and effort. Guests should have sheets that look brand new without stains, tears, rips, loose threads, etc. Especially when they are paying top dollar to stay at your Airbnb.
Have a couple back-up sets of sheets in case you need a quick turn around between guests.
How Do I Keep the Airbnb Sheets From Slipping Off the Corners of a Deep Mattress?
Use mattress clips to keep your sheets in place. These come in handy on your own sheets, as well.
Please share this article on Twitter, LinkedIn, Pinterest, or Facebook!