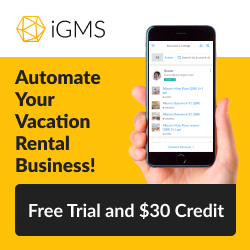 As an Amazon Associate, Rentalrecon.com earns from qualifying purchases. These and other affiliate commissions help to pay for our website expenses, and we appreciate your support! Please enjoy our content.
---
These tools for Airbnb are sure to help hosts make more money on their Airbnb businesses! Surprisingly, there are many companies that focus on helping hosts automate and enhance their listings and guest experience.
The 13 Best Airbnb Tools For Hosts Are:
Every host should have a quality channel manager to automate their listing as much as possible. In addition, hosts should pay for a smart pricing tool/platform that tracks local events and hotel trends within your immediate area, adjusting your nightly rate accordingly. This will generate more money for hosts over time.
Channel Management Software for Airbnb (Including Automated Pricing & Automated Messages):
Channel management services are useful for hosts with multiple listings, but also for hosts that only have one listing. These services typically offer:
Integrating multiple calendars such as Airbnb, HomeAway, VRBO, Booking.com, etc. into one overriding calendar for easy management
Automated messages to guests
Automated messages to cleaners
Smart pricing tools
---
Airbnb Tool #1: iGMS
iGMS is the platform that I'm currently using for my Airbnb property. The automated messages and cleaner notification works great, I'm able to easily monitor my calendar via iGMS. It is also free to use for single listings.
By using the calendar feature of iGMS, you can set up a to-do list for multiple rentals and keep up with your bookings from different platforms. iGMS is capable of integrating all of your booking information from different sites onto one calendar so that there is no confusion when it comes to managing your properties.
iGMS also has native integration with Airbnb, VRBO, and HomeAway.
---
Airbnb Tool #2: Your Porter
Your Porter is another great channel manager. This platform offers automated messaging, multiple listing integration and more. Your Porter works with Airbnb, Homeaway/VRBO, Trip Advisor, Wimdu, CanadaStays, 9flats, and Beds24.
Perhaps one of the most interesting features of Your Porter is that it has the capability to track your guest's flights so that you know exactly when they will be arriving. This will help you adjust for the timing of when your automated check-in messages should be sent out.
Your Porter integrates all booking information onto one calendar and automatically cancels availability on other platforms when your property is booked using one platform.
---
Airbnb Tool #3: OwnerRez
In addition to being a great channel manager, OwnerRez can integrate with your WordPress website to provide booking capabilities.
An interesting capability of OwnerRez is that it tracks which sources inquiries and bookings are coming from. Since OwnerRez integrates messaging from all your booking platforms, this feature will let you know where most of your traffic is coming from and which booking platforms are most beneficial to you as a host. Then you will know the best source for generating more income!
---
Airbnb Tool #4: Uplisting
Uplisting is another great channel manager option for hosts!
Uplisting's Smart Rates feature accounts for differing commission costs across platforms and ensures that you will receive the same rate no matter which platform your guests book through. This software does the hard work for you and frees up your time for more important tasks.
---
Airbnb Tool #5: Superhost Tools
Superhost Tools – Channel manager features include auto messages, automatic cleaner notifications, Airbnb Smart Pricing enhancements, auto reviews, and more!
Superhost Tools provides an array of message templates for you to choose from so that you can send professional messages easily whenever you need to make contact with your guests.
The automatic review process helps ensure that all of your guests receive a review from you and that they are reminded to leave a host review for you. You will generate more reviews and therefore generate more business.
---
Airbnb Tool #6: FantasticStay
FantasticStay – Channel management service that works with Airbnb, Booking.com, HomeAway, Trip Advisor, and Agoda.
FantasticStay's cloning feature allows you to copy your listing information from one platform and populate it onto different platforms without starting from scratch. This cuts down on the time you have to spend creating listings.
---
Smart Pricing Tools for Airbnb
Airbnb Tool #7: Wheelhouse
Specializing in smart pricing technology that integrates with various short term rental platforms. Wheelhouse uses a "conservative", "aggressive", and "recommended" pricing strategy to simplify the process for clients.
Wheelhouse collects data concerning the demand for rentals on a nightly basis and adjusts your pricing to reflect that data. Wheelhouse can help you to maximize your profits by employing the most up-to-date demand information.
Wheelhouse is only available in medium and large cities, and also in vacation destinations. Click the link below to see if your city is one that Wheelhouse serves.
---
Airbnb Tool #8: Beyond Pricing
Beyond Pricing– Specializing in smart pricing technology that integrates with various short term rental platforms.
I have used this for my Airbnb, and was very pleased with the adaptive rental rates. Beyond Pricing is available for most cities, including my Airbnb location in Boise, Idaho.
As of this writing, they charge 1% of your revenue, so it is fairly inexpensive. Their service has definitely made us more money overall.
---
Airbnb Tool #9: PriceLabs
PriceLabs is one of the most customizable pricing tools on the market. Their platform easily manages multiple listings, but can also be useful for single listings. PriceLabs is offered in almost all areas but check with them to confirm your specific location.
Your integrated account portfolio will give you information on which of your listings are performing best. This is an excellent software to use if you manage multiple listings! If you see fewer bookings and profit on a particular property, then you know it is time to make some adjustments. PriceLabs provides you with all the data you could need, right at your fingertips.
---
Airbnb Ranking Services & Analytics
Airbnb Tool #10: RankBreeze
Rankbreeze integrates with several short term rental platforms. Analyzes your listing and provides valuable feedback to get better rankings. This software lets you know the impact that changes to your listing make on your search optimization. It collects data to clue you in as to which changes are beneficial and which are not.
---
Airbnb Tool #11: AirDNA
AirDNA– This online service provides a powerful way to review local market data for your Airbnb or HomeAway/VRBO listing. Scope out the competition to see how you can dominate your immediate area. This software lets you compare your properties' performance with others in the market.
Are you looking for new areas to invest in short term rentals? AirDNA will help you determine the most lucrative locations and provide insight into the revenue you could generate for your potential investment. AirDNA will provide you with the best locales to increase your business.
---
Airbnb Tool #12: Mashvisor
Mashvisor – Provides real estate investors with tools to locate and purchase quality Airbnb or rental properties around the country. Mashvisor scours the internet looking for available properties and compares them against short term rental/ rental comps to help investors make informed investing decisions.
---
Airbnb Reporting Services
Airbnb Tool #13: NoiseAware
NoiseAware provides indoor and outdoor noise sensors that monitor decibel levels. Once a certain threshold is reached, you are notified via the NoiseAware App/ SMS. This service is great for alerting hosts of parties and disturbances. The devices used are wireless and waterproof/weatherproof. They are sure to stand up against the elements and keep you notified of disturbances on your property.
You can get 20% off all NoiseAware hardware you purchase if you email Monica with NoiseAware, and mention Rental Recon: monica@noiseaware.io
Related Questions:
Does Airbnb Invalidate Insurance?
As a host, you'll want to have specific insurance coverage for your Airbnb. Your standard homeowner's policy is not enough! Almost all standard homeowner's insurance policies have a strict "business exclusion" clause the denies any claims related to business activities.
In addition, your homeowner's insurance may actually be canceled once the insurance company finds out that you are operating an Airbnb business.
Check out Proper Insurance. Their insurance is tailored specifically to Airbnb homeowners. It replaces your standard homeowner's insurance and covers business activities within the home as well as your typical home's insurance needs.