**As an Amazon Associate, Rentalrecon.com earns from qualifying purchases.
Glamping has become a hot trend in the Airbnb community. Travelers today are longing for an "outdoorsy" adventure, however, many people still long for little everyday luxuries. Keep reading to find out which accessories and supplies you need to make your rental the perfect glamping getaway.
So, what are the glamping accessories every host should have?
Bedroom:
Essentials:
Special Touches:
Glamping Bedroom Accessories and Supplies
Gel-Infused Green Tea Memory Foam Mattress
A comfortable bed is the most important item in your glamping rental. Your guests will love the comfort of sleeping on a cooling gel foam mattress and wake up well rested and ready for a day of adventures.
I chose this Zinus Gel-Infused Green Tea Memory Foam Mattress for my Airbnb because it is luxuriously comfortable without breaking the bank. A quality memory foam mattress will raise your rental from regular camping to true glamping.
Memory foam floor pad
If you want to make your glamping rental available for more than just one or two people, adding a couple of memory foam floor pads is the perfect way to provide more sleeping options. By adding two of these six-inch memory foam pads to my rental, I can advertise sleeping accommodations for 2-4 people instead of just 1-2 people.
These sleeping pads fold up for easy storage, or you can leave them out in a chair shape to provide seating. These pads are a great option for families traveling with kids!
Ecofriendly Bamboo Sheets
To add a little extra luxury to your glamping rental, consider supplying high quality sheets for bedding. I chose these Ecofriendly Bamboo Sheets because they are soft, moisture wicking, temperature regulating, and environmentally friendly.
Depending on the environment where your rental is located; breathable, temperature regulating sheets are important to provide your guests a comfortable night's sleep. These sheets also come in a large variety of colors so they will match any décor.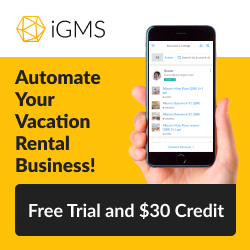 Hypoallergenic Down Alternative Pillows
No bed is complete without the perfect set of comfortable pillows. Your guests will be pleasantly surprised by these hypoallergenic down alternative pillows. They are soft, supportive, and good for all sleep styles.
Throughout my experience as a host, I have found that providing a quality pillows is important and really appreciated by guests. The better your guests sleep, the more satisfied they will be with your property.
Extra Blankets
Extra blankets are essential to have in your glamping Airbnb. I chose to put these Authentic Handwoven Mexican Blankets in my rental. I love the variety of colors to choose from and they give the space a very "campy" feel.
They are soft and warm but also very versatile. Your guests can use them on the beach, for a picnic, or as an extra layer to keep warm at night. These blankets are handmade in Mexico from 100% recycled materials.
Decorative Camp Themed Throw Pillows
To give your space a pop and some personality, you can add decorative pillows to the bed or other seating options in your rental.
There are endless options depending on your décor and decorating style, but I chose to put these camp themed throw pillows in my rental. I like that they are a slightly rough texture making them more durable for the daily wear and tear that comes with an Airbnb rental.
Kitchen Accessories and Supplies for your Glamping Rental
Mini fridge
A reliable mini fridge is essential for your guests in your glamping Airbnb. Even though your guests are technically "roughing it", they still need to keep their food and drinks fresh.
For my rental, I chose this retro compact refrigerator. I love the style and the fact that it includes a separate freezer section. It is a total of 3.1 cubic feet which is the perfect size to store a few days' worth of perishables.
Double Burner Countertop Cooktop
If you have a glamping rental, you know that space inside is limited. That is why this double burner cooktop is perfect for your tiny kitchen. Your guests will be able to easily cook simple meals on this portable hot plate.
I chose this electric stove, however, if power is limited at your rental, you can get a similar hot plate that runs off propane instead. Either way, your guests will appreciate a simple way to make homecooked meals on their glamping adventure.
French Press Coffee Maker
When you're camping, there is nothing better than waking up in the morning and enjoying a hot cup of coffee outside your tent. If your guests are coffee lovers, then a French Press Coffee Maker takes the average camp coffee to the next level to provide a true glamping experience.
For my rental, I went with this heavy-duty stainless-steel coffee press. It won't rust and can washed in a dishwasher. Just remember to supply quality coffee for your guests or remind them to bring their favorite blend!
Portable Espresso Machine
For those who need more than just a regular cup of coffee, this mini portable espresso machine is a must have for any glamping rental. I use this product myself on camping trips and realized that it would be the perfect addition to my glamping rental. This machine is simple to operate and all you need is hot water to create the perfect cup of espresso.
Enamel Camping Mugs
When I was looking for glassware for my Airbnb, I came across this camping mug set and knew it was the perfect addition to the glamping kitchen. These camp themed 12oz. enamel mugs are durable and won't break. They are plastic free and non-toxic.
Your guests will love sitting outside their tent and sipping their morning coffee or tea from these cute nature inspired mugs.
Outdoors Pioneer Table Set
Its important to stock your rental with dishes for your guests cooking and meal needs. When I first started hosting, I had a normal set of dishes but after constant use, they either broke, cracked, or chipped. That is when I opted for this GSI Outdoors Pioneer Table Set.
This 12-piece set of dishes is made from heavy-gauge steel for maximum durability. This set also nests and stacks for easy storage in your small space.
Camp Kitchen Cooking Utensil Set
Don't forget the utensils! Whenever I am picking out items for my glamping rental, I always make sure I am considering space and storage. In less than 200 square feet, things need to be able to be packed away and stored easily.
That is why I love this 11-piece utensil set. It has all the specialty utensils you need (knives, tongs, spatula) and they store neatly in a water-resistant travel case. It even comes with a small cutting board.
Stainless Steel Stemless Wine Glasses
Durability is the most important consideration when furnishing your glamping rental. You must remember that items won't only have the normal wear and tear of a typical rental but will also have the wear and tear of the outdoors.
I found this set of four stainless steel tumblers and knew they would be perfect for my glamping rental. They come with lids, so your guests won't have to worry about dirt or bugs spoiling their drink while they sip it outside by the fire.
Cast Iron Cookware Set
Cast Iron Cookware is durable and perfect for a glamping kitchen. This is the set I use in my rental and it is so versatile. It has 11-pieces (the pizza pan is my new favorite accessory) and comes with a rack organizer. The best thing about cast iron cookware is that it can be used on a stove top, a grill, or even over an open campfire.
Living Room Supplies and Accessories for Glamping
Outdoor String Lights
Even if your rental doesn't have a typical living room space, you will still want to decorate the common areas. One of my favorite parts of my rental are these string lights that I have set up around the glamping tent. They create a warm, welcoming glow and make the space feel cozy.
These lights are good for indoor or outdoor so they will be durable and able to withstand the elements. They are also energy saving LED bulbs which is great if you're running them off solar power.
Wood Burning Stove
If you want to create ambiance and a true glamping, feel in your rental, consider adding a wood burning stove to your space. This may not be possible in every glamping tent; however, I was able to add it to mine and my guests have loved it.
This wood burning stove features a glass window on the door to provide a view of the fire and it is certified to head up to 1200 sq. ft., so it keeps the small tent space toasty and warm even in the winter months.
Portable Space Heater
If you can't add a wood burning stove to your tent, you should provide your guests with some type of space heater. Even in the desert it gets chilly at night and you want to be sure your guests are warm and comfortable.
This small portable space heater can heat up to 200 sq. ft., so it is perfect for a small glamping tent. This one is ceramic, so it is safe, and the fan is quiet.
Boardgames
Boardgames are a great addition to any rental, especially a rental that is remote or out in the wilderness. Your guests, especially families, will love sitting outside passing the time with a classic board game.
I found this set of three classic games to add to my rental. The possibilities are endless so be sure to provide a good fun selection!
Boho Braided Area Rug
Adding an area rug to the inside of your glamping tent will create a warm, welcoming, homey feel to your space. When your guests take their dirty hiking boots off, they will want to feel something soft beneath their feet.
I opted for this colorful braided area rug because it added a pop of color and fun to my space. This rug is made with 100% cotton and is soft and lightweight.
Potted Succulents
I like to keep the nature theme strong in my glamping tent rental and one way to do that is to add live plants to your space. Sometimes keeping real plants alive can be a challenge though so I chose to add low maintenance succulents to my tent.
These small potted plants can be added on end tables, shelves, or countertops for a splash of color and a bit of nature in your rental.
---
Check Out Our Others Articles On Rental Recon:
---
Glamping Bathroom Essentials
Nature's Head Composting Toilet
Most glamping tents are built far from the luxury of running water so you will need to consider a bathroom option for your guests. This compost toilet is the perfect environmentally friendly option. It is easy to install and has a large capacity.
Bath Towels
Soft cotton towels are a must have in your rental. I found these luxury 100% cotton bath towels and they are perfect for my rental. They are high quality so they can withstand daily use and machine washing.
Makeup Removing Washcloths
Even though this is technically camping, many ladies still like the comfort of their makeup, even out in the wild. When I first began hosting, I provided my guests with small white washcloths. I found that these were easily stained and ruined by makeup.
I found these great dark grey designated makeup towels and couldn't be happier! Now I can avoid replacing washcloths and my guests can still remove their makeup at the end of the day.
Biodegradable Body Wipes
Sometimes when you're camping or glamping, a full shower isn't necessary (or possible), but you still may want to get the day's sunscreen and bug spray off your body before you crawl into bed. I started providing these biodegradable body wipes for my guests and have received great feedback.
These are perfect for quickly freshening up, are unscented so they don't attract bugs, and are great for all skin types.
Heated Shower System
The luxury of a shower should be included in any glamping set up. Even if you don't have running water, you can accomplish this with portable propane heated shower pump.
This shower system is compact, portable, and comes with both an AC/DC or 12V adapter so you can choose to used electric or propane. Your guests will appreciate a hot shower after a long day of adventures in the wild.
Glamping Accessories for Outdoors
Solar Powered Pathway Lights
When you're camping in a remote location, its hard to imagine how dark it actually gets without any light pollution. I decided for the safety and comfort of my guests, I needed these solar powered pathway lights around the glamping tent.
You can create a lighted pathway to the restroom or just illuminate the space around the tent. Either way, your guests will appreciate being able to see where they are walking after the sun sets.
Coleman Camping Chairs
These Coleman Camping Chairs were a perfect addition to my glamp site. They are perfect for lounging near the fire or sitting to eat a quick meal. The seats are fully cushioned and surprisingly durable. I like that they are collapsible, so they are easy to fold up and store when you're not using them.
Portable Propane Grill
There is nothing better than being able to grill while you're camping. I wanted to provide my guests with another cooking option in addition to the indoor hot plates, so I opted to add this small propane grill to my rental.
I love that this grill is a push-button start, and it can cook a surprising amount of food for such a compact design. This grill even folds up so it can be stored away when not in use.
Hammock
No campsite is complete without a comfy hammock to lounge in. A hammock is especially great if your rental is in a location with a lot of trees.
I chose this nylon camping hammock because it is lightweight and easy to set up. It is made from 100% parachute nylon and can hold up to 500lbs, so it is safe for two people.
Outdoor Fire Pit
In some locations, it isn't safe or legal to have an open bon fire so adding a metal firepit to your property is a great option. This allows your guests to safely enjoy an evening around the fire while glamping.
The Sunnydaze Outdoor Fire Pit is large and heavy duty and is coated with rust resistant paint. It even comes with a spark screen for an extra layer of safety. If your rental is in a dry climate prone to fires, this is extra important.
Outdoor Area Rug
Just like an indoor rug, an outdoor rug makes the camp site feel homey and welcoming. I chose to put this outdoor rug by the entrance to the glamping tent so guests can take their shoes off outside, step on the rug, and keep the inside of the tent dirt free.
The Unique Loom Outdoor Rug comes in a variety of beautiful colors, is easy to clean, and comes in several different sizes.
Marshmallow Roasting Sticks
I am a firm believer that you aren't actually camping until you are roasting marshmallows for some delicious s'mores. I've found that providing guests with extra little thoughtful items – like this set of 10 roasting sticks—really takes their experience in your rental to the next level. These special touches ensure that your guests will create some amazing memories around the bonfire with their friends and family.
Glamping Technology for Your Guests
Solar Panels
If you want to provide electricity for your guests, solar panels are the best way to keep your glamping tent powered. Having some sort of power at the site is what really distinguishes camping from glamping.
I use several types of solar panels but the Jackery SolarSaga portable solar panel is a great smaller option. This solar panel has USB outlets for phones and electronics and built-in stands so you can position it at the best angle depending on the sun.
Charging station
Packing for a big trip can be stressful and its common to forget something – usually a charger or cord for your favorite device. I started stocking my Airbnb with a charging station and extra charging cords and my guests couldn't be more grateful.
This charging station can charge up to five devices at once and you can keep your devices organized with the adjustable partitions.
Rechargeable Batteries
Just like chargers and cords, batteries are another must have in a glamping rental. I found this Energizer battery charger that comes with rechargeable batteries so my guests will never have to worry about dead batteries.
Bluetooth Speaker
It's always nice to be able to listen to your favorite music when you're on vacation so I added a Bluetooth speaker to my rental. This speaker is made for the outdoors, so it is perfect for camping. It is waterproof, has a great bass, and will play for up to 1500 minutes on a single charge.
Your guests will love sitting by the fire listening to their favorite tunes while they enjoy their glamping experience.
Portable fan
For warm nights in the tent, having a fan can be a necessity. This little rechargeable battery-operated fan is the perfect size to keep air moving and keep your guests cool on hot summer nights.
This fan conveniently has a clip so you can move and secure it wherever you may need. It also has four speeds and actually packs a lot of power for such a small unit.
Portable Power Station
This portable power station is the perfect way to ensure your guests always have access to power and it can even be paired with the solar panels mentioned earlier. In addition to using the solar panels, this power station can be recharged with a wall outlet or car outlet. It features multiple outputs for various devices like a mini fridge or air pump.
Safety Essentials for Glamping
LED Camping Lanterns
In case your power sources fail, it is important for your guest's safety that they have lanterns. I chose these battery powered LED lanterns for my property.
These lanterns are waterproof and feature a hook so they can be hung up to light a large area. My guests can rest assured that if they lose power, they won't have to worry about lighting.
First Aid Kit
When you're out camping or even glamping its important to be prepared in the event of an emergency. Whenever I talk to new hosts, I always encourage them to add a first aid kit to their rental. I like this first aid kit because it has 299 pieces of essential gear from bandages, to burn gel, to Ibuprofen tablets.
Sometimes glamping rentals can be far away from help. Having a first aid kid like this in your rental could save a guest's life.
Bug Spray
It may sound simple, but bug spray is a big deal! Bugs can ruin any good camping trip, so you want to be sure you supply your guests with some courtesy repellant. You never know who will be staying in your rental so a natural bug spray like this one is a great option. It is made with lemon and eucalyptus oil and DEET free.
Special Touches to Bring Your Glamping Rental to the Next Level
Glamping Guide Book
I always like to add special personalized touches to my rentals. When I saw this book, "Comfortably Wild: The Best Glamping Destinations in North America", I knew I had to have it for my glamping tent.
Guests can flip through this fun read and get some inspiration for their next adventure.
Dog Bowls (If your rental is pet friendly)
My rental is dog friendly, so I make sure to have these collapsible bowls available for my guests. These bowls are great to pack on day outings because they are lightweight and collapse flat. They also have a carabiner so they can be easily attached to a backpack.
Telescope
There is nothing better than stargazing from a campsite far from civilization with no light pollution. A telescope will allow your guests to really immerse themselves in the magic of being off the grid.
This is a great telescope is easy to use and great for beginners. It folds up and fits into a convenient carry bag so it can be put away when it's not being used.
Guestbook
I must admit, the guestbook is more for me than it is for my guests, but it is a great touch and I recommend that all hosts have one in their rental.
Some guests like to leave a detailed diary of their stay, while some like to just sign their names. Either way, it's a great way to not only get feedback about your rental but to allow the next set of guests to connect with the prior guests.
Dream Catcher
A dream catcher is the perfect decoration to fill your glamping tent with a little magic. Hang this beautiful dream catcher above the bed in your rental so your guests can not only sleep well, but also have sweet dreams.