---
**As an Amazon Associate, Rentalrecon.com earns from qualifying purchases.
Working with a new cleaner can be difficult, as I have discovered. So a checklist can be very useful in getting a cleaner or maid up to speed with your expectations. I thought I'd share my Airbnb cleaning checklist that I put together for my maid. I hope you can get some use out of this!
Airbnb House Cleaning Checklist- Living Room:
Recenter sofa the end tables to align with the wood floor lines
Recenter the coffee table and sofa to align with the wood floor lines
Clean the glass table, coffee table, and end tables.
Pull out the sofa so to not depress curtains, and align with flooring
Turn on the TV using remote and turn back to channel 100. If the "low battery" indicator is present, replace batteries.
Put the Airbnb house manual instructions back on the coffee table
---
---
Bathroom Cleaning Checklist:
Top off the soap/ conditioner in tub soap dispenser (see what my Airbnb essentials include here)
Top off soap dispenser at the sink
Clean interior/ exterior of the toothbrush holder
Put out a clean shower walk-off mat folded over the wall of the shower
Re-supply the toiler paper. Confirm guest stay length with the owner. Fold toilet paper into a triangle. Check out our article Airbnb toilet paper etiquette here.
Provide fresh towels. Rolled and stacked on the bathroom counter. Confirm guest stay length with the owner for the number of towels
Provide a black makeup washcloth
Kitchen Cleaning Checklist:
Empty the water in coffee maker, clean base tray, clean coffee grounds inside the unit
Re-stock the coffee pods, creamer/ sugar and ground coffee (¾ full max)
Empty the ice container in the freezer
Scrub all of the dishes and silverware before starting the dishwasher
Start the dishwasher and then empty the dishwasher once complete
Stack the silverware in the silverware drawer
Clean outside and inside of microwave and oven (if needed)
Clean out the refrigerator and remove any contents
Re-stock the napkins and the paper towel roll as necessary
Put fresh red towel centered on the oven handle
Put a fresh folded washcloth to the left of the sink
Take out the trash and provide a new trash bag
---
Check Out These Other Articles On Rentalrecon.com:
---
Bedroom Cleaning Checklist:
Remove any hairs or particles on the sheets
Treat any stains on the sheets
Check dresser for any clothing. Notify owner of any clothing or other items
Wipe down the headboard
Duvets are to be wrapped tight into the bed frame with folded corners at the base of the bed
Wipe down and treat any stains on the mattress protector, use a bleach pen or hydrogen peroxide as required
Check under the bed for items, and vacuum under the bed
Turn off the alarm on alarm clock (if set)
---
Rental Recon Sheet Tip: Fold your set of sheets, and place them inside one of the set's pillow covers. Then stack the "pillow cover sets" on top of eachother based on what bed they apply to. That way you won't have to sift through sheets trying to determine where it goes.
---
Utility Room:
Empty lint from the dryer
Check for clothing in the washer/ dryer
Check for clothing in the hamper
Outside:
Sweep the back and front porch
Clean the patio table and re-position chairs
Remove any cigarette butts and report to the owner if present
Retract/ drop the umbrella at the picnic table
Re-stock the firewood (if you have a fire pit) and remove ashes
Final Walkthrough:
Open all of the blinds / re-position the curtains
Clean any scuffs on the floor or the furniture
Check to make sure both keys are in the lockbox and the combo is scrambled
Text guest cleanliness of home to the owner upon leaving (photos if the home was left in poor shape)
Turn on the front porch/ rear porch lights
Lock the front/ back door upon leaving
I have my Airbnb house cleaning checklist laminated with checkboxes and is kept up where my supplies are located. Of course, this checklist is specific to my home, and will probably need to be refined to fit your home.
I highly recommend walking through your Airbnb after the cleaners are finished. I realize this may not be an option for some hosts, but it works well for me. I still catch minor issues that need to be addressed before the next guest shows up. Everything from random hairs to lint on pillows still make an appearance from time to time.
These items may seem trivial to some, but a random hair can really turn off guests and may lead to a bad review.
---
Check Out Our Tools & Resources Page Filled With Services to Help Your Business Grow!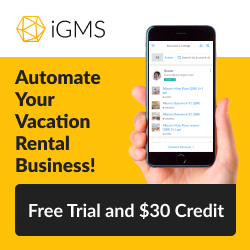 ---
Airbnb Cleaning Tips:
Stains on Linens
For those guests that leave unsightly blood or other stains on your sheet or pillowcase, there is hope! Get out your hydrogen peroxide. It will make those stains disappear rather quickly. You can also try Oxy Clean. The odor blaster is my personal favorite for getting rid of lingering smells on linens.
Towels/ Sheets
In order to remove those pesky stains, white towels and sheets are highly recommended. Your best friends are bleach and hot water. In addition, use a commercial strength detergent. Check out this article on motel quality detergents.
This product on Amazon is another great commercial detergent option. The smell is not too strong, comes in powder form, and has a large 5-gallon pail. Make sure to read all of the reviews/ recommendations to make sure it works with your specific washing machine. It may not work for high-efficiency machines.
If you prefer to use ordinary household detergent, also use hot water and a tablespoon of Oxy Clean to attack stains.
Please also be aware that some commercial-grade products or bleach may not be appropriate for septic systems.
---
Baking Soda Deodorizer
I sprinkle a good solid amount of baking soda on my carpets periodically. This keeps the carpet smelling fresh and odor-free. Just sprinkle on your carpet, and let is sit overnight when you don't have a guest staying. Vacuum up the following morning. That all it takes.
Bad Odors that Linger
For guests that break your Airbnb house rules and smoke in the house, or cook something that lingers for days, I bring out my ozone machine. This machine works great for eliminating those baked in smells that just won't come out any other way. Make sure to follow the instructions, as you shouldn't be present when they are in operation.
Rental Recon Recommended Products:
---
Related Articles:
How Much Do Cleaners Charge?
In my experience, cleaners typically charge between $25-$50/ hour. Some cleaners provide a flat cleaning fee per visit, based on square footage and whether deep cleans are necessary or just a little tidying up. My cleaner charges $30 per hour, and it typically takes her an hour.
She will have time to have the dishes washed and put away, and throws all towels and sheets in the washing machine. It is up to me to put the wet clothes in the dryer and then fold and put away the linens. But it saves me a little cash, so that works for my situation.
What is the Airbnb Cleaning Fee?
No, the hosts set their own cleaning fee. If you host in the US, Airbnb does ask if you support their Living Wage Pledge, which states that you pay your cleaners a minimum of $25/hour. You don't have to check this box on the listing, but since most cleaners ask $25/hour minimum, you might as well check the box to show your support for that cause.
Since the cleaning fee is determined by the host, you can inflate the cleaning fee to cover items such as soap, coffee, and other operational items necessary for your short term rental.
But be aware that when a guest sees your nightly price, that rate includes the cleaning fee (averaged over the number of nights they are staying). So the higher your cleaning fee, the less competitive you will appear. This content was originally written on rentalrecon.com.
Where Do You Find A Reputable Cleaner for Your Airbnb?
It turns out that most of the cleaning companies in my area would not even call me back once I told them I needed a cleaner for my Airbnb. Why you may ask? They don't want to work on weekends. I wouldn't want to clean on the weekend either, but something had to give. So I turned to Facebook.
Surprisingly, the second cleaner I contacted worked on weekends. And I have been using her ever since. I have heard good things from other Airbnb hosts about Thumbtack and TaskRabbit, but I haven't personally used them.
How To Properly Screen A Cleaner For Your Airbnb
Here is how I screened my cleaner. First off, I asked for references. If they don't have any, I'd move on to the next option. Secondly, I asked if she does background checks on each of her employees.
Third, I checked to see if they would provide me with a copy of their business liability insurance, which they happily provided. If you ask these questions when selecting your new cleaner, you will have added peace of mind.
Please share this article on Twitter, LinkedIn, Pinterest, or Facebook!