**As an Amazon Associate, Rentalrecon.com earns from qualifying purchases.
We've done our research, and we've compiled a list of 19 incredible Airbnb hacks that all hosts need to know- start saving money, keep your calendar booked, and make your guests want to leave those critical GREAT reviews by using these hacks today!
Here are Our Top Airbnb Hacks for Vacation Rental Hosts:
Automate messages to guests.
Emphasize the unique qualities of your Airbnb.
Create a buzz by linking your listing to social media.
Link your property description to upcoming events or local attractions.
Be strategic with price in order to rack up good reviews.
Offer deals so guests will extend their stay.
Override your 2-night minimum to make more money.
Respond quickly to every guest.
Check-in with your guests before encouraging them to leave reviews.
Provide as much detail as possible in your listing.
Provide a sofa bed to accommodate more guests.
Provide lightning-fast Internet service.
Give your guests access to a washer and dryer.
Avoid the hassle by using an electronic key lock.
Get a different mailbox.
Buy amenity items in bulk.
Eradicate odors with an ozone machine.
Provide vouchers, coupons, or tips for local attractions.
Don't underestimate the power of the thoughtful touch.
We'll break down each one of these Airbnb hacks below in more detail:
Hack #1: Provide Automated Messages On Airbnb
When you automate messages on Airbnb, you don't have to worry about missing any important details when your life gets super busy. You can automate check-in instructions, check-up messages (to see if your guest has settled in well), or check-out instructions.
It might take a little bit of work on the front end, but it'll save you time, energy, and hassle as you take on more and more bookings.
All offer automated messaging and other handy tools for Airbnb hosts:
---
iGMS – Totally free up to four listings. They offer automated messages to guests and integrate your Airbnb/ VRBO/ Homeaway calendars. Check Pricing >>
Lodgify: If you want a great channel manager that offers your own hosting website, this is the one!
Your Porter – This link gives you $20 off your first month! If you sign up with the YourPorter app, use code RENTAL.RECON to get $20 off.
Uplisting – Another great Airbnb/ VRBO/ Homeaway management platform to automate your guest messages and automatically notify your cleaner when a booking is created.
---
Hack #2: Emphasize the Unique Qualities of Your Airbnb
In your listing, make sure you highlight the aspects of your place that no one else has. Maybe you've got a hot tub, or a cool fire pit, or a special music room, or a theater room… or maybe you've got a small place with a ton of small, cozy touches.
If it makes your place special, emphasize it! Also, make sure to take pictures of the unique aspects of your Airbnb and feature them in your listing.
Hack #3: Create a Buzz by Linking Your Listing to Social Media
Create an Instagram or Facebook account for your Airbnb. It's been rumored that Airbnb provides an SEO listing boost for hosts who can bring in outside guests from social media platforms.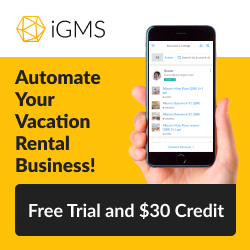 In your guidebook, tell your guests that they can post pictures from their stay on your social media page.
Get creative and make a cool hashtag that guests can use. They'll feel special, and you'll gain attention for your Airbnb.
Hack #4: Link Your Property Description to Upcoming Events or Local Attractions
Do this, and your listing will pop up when guests search for a place near the local attraction that they've planned on visiting.
For example, this summer, I'm taking my family to DC, and when I was on the search for a cool Airbnb to rent, I was sure to search for places that mentioned being close to the White House or the Smithsonian.
Your guests may not be familiar with the area, so linking to events and attractions will help them choose a place that they're sure is close to the places they plan to visit. And, hopefully, that place is yours!
Hack #5: Be Strategic with Price in Order to Rack Up Good Reviews
If you're new to Airbnb and you want to build your reputation as a host, check out the competition and consider lowering your nightly price in order to book your calendar out quickly.
Once you've been booked for a few weeks and you've racked up good reviews, you can raise your price to make more money.
Hack #6: Offer Deals So Guests Will Extend Their Stay
Sometimes guests want to extend their stay but can't because they've already come close to reaching their max vacation budget.
Offering a discounted 4th or 5th night will bring you more money and your guests will be pumped about extending their stay and saving money. Everybody wins.
Hack #7: Override Your Nightly Minimum to Make More Money
Speaking of filling up your calendar and making more income, once you've booked up your calendar, try overriding your minimum stay length in order to offer guests who are passing through town a chance to stay at your place.
Those one-nighters between longer guest stays don't bring in any revenue unless you stay on top of your calendar and offer them as an option for guests. You may find that they get booked quickly because so many other Airbnbs have two-night minimums and won't budge.
Hack #8: Respond Quickly to Every Guest
No one likes to be kept waiting. As a hospitable host, you'll want to make sure you're responding to your guests (or potential guests who ask you questions) quickly.
It can mean the difference between a good review and a bad one and could cause potential guests to book elsewhere if they don't hear from you. Communication is key!
Hack #9: Check In with Your Guests before Encouraging Them to Leave Reviews
Almost anyone who is considering renting your Airbnb will look at guest reviews. That's why you should make sure you've made your guests happy before encouraging them to leave a review.
During their stay or before they check-out, ask if there is anything you can do to make their stay better and address it immediately. This shows your guests that you care about more than just a profit!
---
Check Out These Other Rental Recon Articles:
---
Hack #10: Provide as Much Detail as Possible in Your Listing
When guests are searching for a place to stay, they know that a host means business when they see a detailed rental description. The more information, the better.
Of course, you'll want to make sure you're organized, and that your listing doesn't drone on and on. But your guests will know that you've got nothing to hide if you let them know all the details before they book. They know what they're getting, and you create trust between you and your guest.
Hack #11: Provide a Sofa Bed to Accommodate More Guests
A sofa bed is an easy way to increase your Airbnb's occupancy, and it will lead to more bookings. With a sofa bed, your one-bedroom has just been turned into a two-bedroom (technically), and you'll be able to accommodate your potentials guests' varied situations.
Hack #12: Provide Lightning-Fast Internet Service
These days your guests expect lightning-fast Wifi. That's all there is to it. We know that you may not have the ability to provide this access to guests due to your location (maybe you're in the boondocks and your service is spotty); however, if it's possible, upgrade to the good stuff: the fastest service possible for your area and a super-fast router like this one. Guests will expect it, and you want to be able to deliver.
If it's just not doable for you, make sure your listing description clearly states your Internet status. Upfront communication is always a good thing.
Hack #13: Give Your Guests Access to a Washer and Dryer
Sometimes guests are forced to pack light, especially when the cost of checked and carry-on luggage has increased (it never stops, does it?). If it's possible, provide for these guests with access to a washer and dryer.
If you rent out a portion of your home as an Airbnb, consider providing limited access to your own washer and dryer. You can set up rules so that your guests don't take over (for example, guests may do laundry from 8-1 pm).
Hack #14: Avoid the Hassle by Using an Electronic Key Lock
Your guest has lost his key and it's 1 am. Need I say more? Installing a key lock with a programmable code will save you tons of trouble.
It's worth the cost. Trust us. You won't have to worry about meeting up with guests at check-in or check-out, and you don't have to worry about the guests locking themselves out of the house. Check out our article on the 11 Best Smart Locks for Airbnb Hosts Here.
You might also consider providing a back-up manual key lock-box in case guests have issues with the electronic lock. It would save you a trip to the property!
Hack #15: Get a Different Mailbox
If you Airbnb a home, remove your standard mailbox and install a mailbox that requires a key to get access to the mail.
In the event that a guest decides to overstay his/her welcome, and tries to create tenancy, they can partially do this through having their mail sent to the home. Eliminating this option makes it that much harder for the squatter to claim tenancy.
Hack #16: Buy Amenity Items in Bulk
Think about all of the items that you have to replace before a new guest arrives: coffee, coffee filters, sugar, salt, pepper, shampoo, conditioner, hand soap.
Instead of purchasing these items in single-use containers, consider buying them in bulk and refilling them between guests. You can even buy attractive containers, label them, and refill them each time. They'll look nice and you'll save money.
Hack #17: Kill Those Pesky Smells
If your previous guest smoked in the bedroom or cooked liver and onions the night before, you may need something to kill those lingering odors.
Try an ozone machine like this one. These will eliminate or get rid of most of whatever smell you want to eradicate. Just be sure no occupants are in the room/ space when the ozone machine is operating, and follow all manufacturer safety recommendations.
Hack #18: Provide Vouchers, Coupons, or Tips for Local Attractions
In many cases, guests book Airbnbs so that they can explore the area. When you go out of your way to provide money-saving tips, coupons, or vouchers for local attractions (even restaurants), you show your guest that you care about every aspect of their stay.
Hack #19: Provide a Small Treat or Welcome Letter
Airbnb Superhosts understand the impact that a special touch has on the guests' evaluation of your Airbnb. Provide a small treat for the weary guests' arrival, or write them a "welcome" or "thank you" letter.
In my travels, these are what I remember most- the hospitable hosts who have gone the extra mile to make me feel welcome in their home.
Bonus Hack:
Don't Use Airbnb at all! Use your own WordPress site with pictures, and subscribe to a service like OwnerRez – vacation rental software!. Their widget will integrate directly into your WordPress post, to provide a booking calendar and payment. You can also integrate your Airbnb calendar into the OwnerRez calendar so you don't get double bookings!
---
Related Questions:
Can Vacation Rentals be Profitable?
There are many factors to consider when asking "can vacation rentals be profitable"? You'll need to determine your monthly expenses (mortgage, homeowner's insurance, utilities, internet and TV, short-term rental insurance, cleaning fees) and research comparable vacation rentals in your area.

Approximate how much you would take in per month less the expenses that you will incur whether you've got guests on the calendar or not. It would be wise to estimate how much you'd make if your rental was booked for half of the month instead of estimating that it would be booked all month long. That way, you won't have any surprises if you have trouble keeping it constantly booked.
Are Airbnb and VRBO the Same?
The short answer? Not exactly. While both Airbnb and VRBO offer similar services, they differ in a few distinct ways. VRBO only allows hosts to rent out an entire home, condo, or apartment, while Airbnb allows hosts to rent out an entire home, a basement, a portion of the home, or just one room.

Also, Airbnb offers quirky options, like staying in the tower of a castle house or a tricked-out RV, for travelers who want to try new things. Lastly, Airbnb has a host community forum where hosts can bounce ideas off of each other and provide tips for successful hosting.