---
**As an Amazon Associate, Rentalrecon.com earns from qualifying purchases.
I've been considering buying a camper to Airbnb in my backyard, and I thought you would like to know what I found out.
Here are the steps to Airbnb your camper or RV:
Research your city's laws on short-term rentals on your property to make sure you comply.
Sign up on Airbnb as a host and create a detailed listing that clearly describes all rules, guidelines, and "need to know" topics, as well as amenities.
Decide how you will check guests in.
Provide unique glamping amenities to impress your guests, such as fire pit, wood, smore's, etc.
Establish how you will provide sewer, electrical, and water service to your RV or camper.
Create a unique outdoor space dedicated specifically to your camper or RV
We'll go into more detail on each of these steps below. Read on to learn more…
Airbnb Camper Step #1: Determine if it is Legal to Airbnb Your Camper?
Before you decide to Airbnb your camper, make sure that your city's laws and ordinances do not prohibit it. Some cities do not allow camper living inside city limits, some have rules regarding where and how you hook up your camper or who stays in it (not allowing renters), and some cities don't care either way.
You'll also want to check your HOA or CC&Rs to make sure you're not in violation of your neighborhood or housing complex rules by renting out a camper in your yard.
---
---
Airbnb Camper Tip #2: Fill Out Your Listing, Providing a Clear & Detailed Listing Description
Start off by signing up on Airbnb. Once signed up, click the large button "Create new listing."
Tell Airbnb what kind of place you have. You'll want to select whether you are sharing your entire camper or just a portion of the camper. You will select how many guests can stay in your camper and the location. Then select "Unique space" button and then "Camper/ RV" button.
In the next screen you will identify how many bedrooms you have and how many beds are available.
On the next screen, you will identify how many bathrooms are available.
Provide your specific address, and provide locate your camper's location on a map. The map can only be seen by confirmed guests.
You will then select the amenities available to the guests.
Next, type in the title, description, and upload photos of the interior and exterior of your camper, and site photos. You'll describe how available you'll be as a host, and if guests will see you during their stay.
You'll also have an opportunity to write in your House Rules for your property and camper. You can find more information on house rules here. You will also select check-in and check-out times for your guests, and provide house manual instructions on how to operate appliances, and other amenities.
---
---
Airbnb Camper Step #3: Check-In For Your Guests
Don't forget to include strict check-in and check-out times so that you have enough time to prepare your camper for the next guests.
You can either provide self-check-in for your guests, or you can show your guests the ropes (how to work the stove, how to unravel the awning, or how to turn the heat/air conditioning on and off). Every host is different when it comes to check-in. If you are providing self-check-in, make sure to leave your house manual printed out and laminated in your camper for the guests to read through.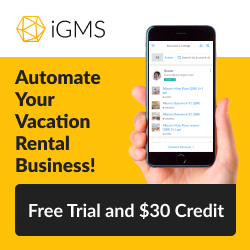 ---
Airbnb Step #4: Try "Glamping" to Elevate Your Game
Glamping (a combination of the words "glamour" and "camping") has become a trend in the camping world, catering to the camper who is looking for an outdoorsy experience with luxury touches. Consider sprucing up your camper with some added amenities to show your renters that you've gone the extra mile for their comfort and for a unique camping experience.
When I went to Talladega National Forest, we camped on the land of married yoga instructors who provided some unique amenities to make our trip memorable. We got to participate in an outdoor yoga class in the middle of the woods (awesome!).
Maybe you're not planning on going that far, but here are some amenities you could include to make the stay unforgettable:
A fire-ring, chairs, and s' mores (kids won't forget this, but even adults love a good s'more or two).
Some fun card games or board games, or even some outdoor games that your guests could set up quickly and play to ward off boredom.
Unique exterior lighting so that your guests can sit outside, drink a glass of wine, and relax once the sun goes down.
If your camper doesn't have a shower, you could offer a relaxing, private, stand-up shower with some spa toiletries.
Add touches to make your camper feel like home: a vase with flowers, cute rugs, and/or wall décor.
Provide an easy-recipe cookbook so that guests can find creative ways to best use the limited kitchen in your camper.
A quick note: Glamping exists in so many forms and fashions, from simple bonus touches to all-out luxury in an outdoor setting. If you want to add these touches to your camper, be sure to talk it up in your listing description to attract renters.
---
Airbnb Camper Step #5: Proving Permanent Power, Water, and Sewer
Since Airbnb does not allow you to rent out vehicles for travel, you'll have to treat your camper like a cabin or house, meaning you'll need to put it in one place and leave it there.
Consider providing permanent power, water, and sewer in this location as well. You'll likely need permission from the city to do this, but you'll probably find that the advantages outweigh the extra cost.
While you could run power and water from your home and empty the sewer between guest stays, it would be wise to consider the alternative. In the case of power, an extension cord will only provide enough amperage for lights and small appliances.
Here are some reasons why I've found that running permanent electricity and sewer is ideal:
If you want your guest to be able to use an air conditioner or heater, you'll most likely need permanent electricity.
Permanent power and sewer will eliminate the unsightly extension cord.
It will make your life easier as a host. If you can at all avoid it, you wouldn't want to have to empty the sewer mid-stay, which is a definite possibility if you've got renters in your camper for more a week or more.
Permanent power and sewer is expensive, though (laying a concrete pad or expanding your driveway, digging a trench and running plumbing and electrical out to the camper), so do your research before you make the call.
---
Check Out Our Other Articles On Rentalrecon.com:
---
Airbnb Camper Tip #6: Airbnb Camping In The Cold…
What if you live in a cold (and I mean COLD) climate? There are extra challenges when it comes to keeping your guests cozy in your backyard camper. Since campers lose heat quickly, especially through thin windows, and pipes freeze, there are some extra steps you can take to make sure your camper stays operational without issues:
Purchase a skirt to keep your camper's plumbing and batteries from freezing.
Consider purchasing holding tank heaters, typically available in 12v DC and 120v AC.
Provide a heated hose for your water supply. They are controlled by a thermostat and do require AC power to operate. Better yet, just fill up the holding tank with water and disconnect it until the next guest.
Keep the water supply line off of the ground and away from the snowbank.
Insulate your camper's windows with thermal curtains or solar blankets. You may also consider insulated RV wiindows if your camper only has single-pane windows.
Provide a space heater for your guests.
Provide a heated blanket.
---
Airbnb Camper Tip #7: Sharing Your Backyard Space While Doing Airbnb
Unless you've got acres upon acres of open land, you've probably had some concerns about sharing your backyard space with your renters. To make your guests (and you) feel like they have more privacy, set up your camper facing away from the back of your home.
You can give them a good view of your property while also dividing your backyard space using the camper itself. Or, if your guests are open to socializing, consider spending some time with them- maybe having a BBQ or campfire together- to bread down awkward walls.
Or, if both you and your renters want privacy, you may have to spend your outdoor time in your front yard until their stay is over- after all, they are paying to rent this space from you and their comfort is one of your biggest concerns.
---
Related Questions:
How Much Can You Make Airbnb'ing Your Camper?
Surprisingly, people who convert campers into profitable Airbnbs can make $1,000 a month in revenue. Of course, this monthly income varies by area, especially if the area has a high cost of living, like California, or is a tourist area. In most cases, though, you can likely charge at least $35 a night. Read on to find out what you need to know when it comes to Airbnb'ing your camper.
How Can I Make Sure to Provide the Best Guest Experience in my Camper?
If you're thinking about renting out your camper, consider staying in it for a night yourself, or asking a close friend to stay for free, and write down any questions, concerns, or issues they had during their stay. This will help you dodge issues that may have arisen with your first guests and fix them before they arrive.
What if I Want to Travel with My Camper and Only Rent it out When I need the Extra Cash?
Many hosts use their campers for their own traveling and then rent them out when it's time to go back to work. So can you! Some disadvantages are that you'd have fewer reviews since your camper wouldn't be rented out constantly.
However, if the extra income from your camper rental isn't crucial to paying your bills, you wouldn't need to worry about a booked calendar anyway. Our point? Enjoy your camper when you want to, and make some money when your own vacation is over!
Please share this article on Twitter, LinkedIn, Pinterest, or Facebook!