**As an Amazon Associate, Rentalrecon.com earns from qualifying purchases.
With the rise in popularity of Airbnb, hosts are finding that it's become even more important to provide the best décor in order to attract guests. Below, we've got some do's and don'ts to make your Airbnb irresistible!
So, What is the Best Décor for Airbnb & Vacation Rentals that will Attract Even More Guests?
First, you'll need to find your target audience so that you can tailor your décor to their desires and needs. Then, choose a theme that complements your Airbnb's surroundings. Be consistent from room to room, and choose decorative and practical items of the same accent color. Lastly, consider how to include much-needed items for your target guest without diverting from your theme.
Why Does Airbnb Room Design Matter?
Let's face it. Everyone seems to have an Airbnb these days. A few years ago, you might have been able to get away with your standard décor, but now, the best Airbnb interior design is one of the few things that will make your place stand out among all the competition (especially when your potential guests are scrolling through pictures while deciding where to stay).
The last thing an Airbnb host would want is to be scratched off the list of contenders just because the place lacks that "wow factor" that people are looking for.
The more visually appealing your place looks, the more your guests will rave about it in their reviews. And the more guests talk about your place, the more new guests you'll attain.
Don't worry- decorating your Airbnb isn't tough. Below, we've got some simple solutions that won't break the bank.
Airbnb Décor Ideas That will Reach Your Target Audience
Your first step in choosing the best Airbnb décor is knowing your target audience.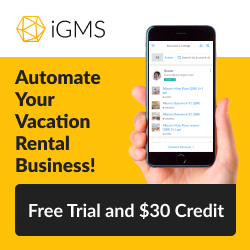 In other words, what kind of guest do you think is most likely to rent your place? Business travelers? Families with small children? Couples on a romantic getaway? Singles? All of the above?
Don't know how to figure out your target audience? Take a look at your previous reviews! Use those reviews to determine which type of guest seems to be the overwhelming majority on your page. Now, tailor you're the appeal and functionality of your décor toward that targeted guest!
Finding Airbnb Decor Inspiration
Now that you've got a target audience in mind, you might be wondering how to find inspiration. You may have two left feet when it comes to decorating your Airbnb, but you can get inspired by looking through magazines, home décor websites, or even Pinterest. Anything and everything is on Pinterest! Even our Rental Recon blog!
Choose a Decor Theme and be Consistent
Consistency is key. That's why choosing a theme is important for decorating an Airbnb. So, how do you possibly choose a theme? Well, we don't mean a "Scooby-Doo" theme or a weird "Gilligan's Island" theme.
Although you may get a quirky guest or two with those themes, the vast majority of your guests are going to want something approachable, neutral, and peaceful. The best way to choose a theme is to consider the location of your Airbnb. For example…

Airbnb Decor for Beach Locales…
Go with a simple beach theme (don't go overboard with shells and beach umbrellas though).
Neutral pale blues and tans would provide that peaceful, spa feel that is reminiscent of the beach. Paint the walls a soothing color, and consider complementing that wall color with simple, plain furniture options.
Pops of color (like red or orange) can bring vibrancy to the home without taking over. Use smaller, strategically-placed items to bring in these brights hues, like vases, photo frames, or even a chair or side table.
Include beach-themed items, but only in moderation. Overkill= a shell on every wall, a pelican in every picture, and sand art on every bedside table.
Long, flowing curtains. When I think of a beach house, I think of lots of natural light and a light ocean breeze. That's why lace white, cream, or beige curtains would be a good call for your beach Airbnb. They'll let in that natural light, making your place feel airy and… beachy!
Airbnb Decor for Wooded Destinations…
Inspire and comfort your guests with a rustic theme.
Mimic the outdoors with wall colors that bring freshness and light to your Airbnb, like pale greens, yellows, or even white/cream.
Diversify textures! You could purchase some inexpensive shiplap for an accent wall. Decorative pieces that contain natural materials, like woven fabric or wood can bring an authentic feel to your Airbnb. You can also create a woodsy feel by including distressed furniture (no shellac or glossy finishes).
Consider hanging wall art that complements the surrounding nature, whether it be by topic (nature pictures of animals or scenery) or by color (greens, yellows, whites).
Airbnb Decor for the City…
Help your guests relax and live large by going with a modern theme.
Cities are bold, challenging, and bright, so your Airbnb should be too! Without going overboard (by painting your whole place with bold colors), draw the eye to an accent wall of bright red, orange, deep green, or indigo. Keep the rest of your walls white in order to contrast with…
The pops of color that you'll include with decorative items. Again, vases, photo frames, wall art- these are all small ways to include color without assaulting the senses.
If you've got hardwood floors, choose accent rugs that bring together your accent wall, and the decorative color theme you're going for. If you purchase a run online, be sure to read reviews. Sometimes the colors can appear different on the screen than they do in your place.
Modern means clean lines and minimal decorations. Less is more. If you're going for a modern, city feel, be sure to keep the clutter to a minimum.
You Get the Idea…
What we're saying is that the décor of your place should reflect its location. If your Airbnb is in the desert in Arizona, a beach theme wouldn't be applicable. Likewise, if your Airbnb is in the middle of New York City, a rustic, cabin feel would just be out of place.
More Helpful Airbnb Décor Tips
Now that you've chosen your theme, here are some helpful décor tips that will take your place to the next level.
What to do:

Think like your guest, not like yourself. It might be tempting to choose items that you would like, but remember to keep your tastes out of your decision-making process. Once you've chosen your theme (that fits with your Airbnb location), stay consistent.
Keep your theme consistent from room to room.

Living room- Vases and photo frames should have the same accent color as other rooms.
Kitchen/dining- Include accent color in dinnerware and matching accessories.
Bedrooms- Choose bedding or accent blankets that match your theme.
Bathrooms- Choose towels and bathroom accessories that align with your theme.

Remember that target audience we talked about earlier! If you're trying to appeal to travelers on business, provide a relaxing area where they can work. If you're appealing to families, choose décor that is inexpensive so that you don't have to worry about children breaking things. Also, provide games/activities that are "out of sight, out of mind" like inside a chest or a drawer/closet in the living room.
What to avoid:

Clutter. Simple is best. Plus, it's fewer items to clean and fewer items to break.
Personal items. Put away the family photos and odds and ends that the guest either won't understand or shouldn't use.
Religious items. You will likely have guests of varied beliefs and values. Remove religious items that could make them feel uncomfortable or unwelcome.
Sentimental/expensive items. There's always a possibility that your things could get broken. To avoid the heartache, remove all sentimental or pricey items.
Need an Airbnb Theme idea? Check out our Airbnb Theme Ideas article…>>
Where to Buy Décor for Airbnbs/ How to Save Money
By now, you're probably worried about how you are going to afford all of these things. Fear not. Decorating your Airbnb is a process, and you won't have the perfect décor immediately (unless you can afford to buy everything from cover to cover in a magazine). Here are some ways to make decorating your Airbnb affordable:
Check out your local consignment stores. This is a great way to get big price-tag items for much cheaper. Plus, there's a lot of character in consignment furniture.
Check out Facebook Marketplace or apps like Offer Up. You can search for just about anything, from furniture to frames, and find some serious deals.
It doesn't get much better than IKEA. If you've just GOT to go new, check out Ikea. They've got everything from dishes to couches to curtains to rugs.
---
Check Out Our Other Articles on Rental Recon:
---
Related Questions:
How Can I Decorate My Outdoor Space?
Depending on where your Airbnb is located, you may have an outdoor space to decorate as well. You want your outdoor space to be inviting, but also contain durable items that will withstand the elements. In this case, simple is best.

Provide simple seating (for at least 2 but ideally 4) like these, an umbrella (if needed), and either a table or a chimenea or firepit that your guests can gather around.
What Will Get Me Good Reviews on Airbnb?
A surefire way to get good reviews for your Airbnb is to make sure it's immaculately clean. Scan some Airbnb guest reviews, and you'll notice that almost all of them reveal whether the Airbnb was clean (or, in many cases, whether it was NOT).

If you want to keep your guests happy, make sure that your Airbnb is spotless between each and every booking. If you can't maintain this job by yourself, consider hiring a co-host (one that has an eye for detail) to clean your place, or even better, a cleaning service that will make your Airbnb a priority. Your guests (and your wallet) will thank you for it. Check out our Airbnb cleaning checklist and tips here .