**As an Amazon Associate, Rentalrecon.com earns from qualifying purchases.
Hosts overlook the power and elegance of window blinds and curtains. These decor elements can make a dramatic impact to the feel of your Airbnb.
The Best Curtains for Airbnb: Here's Some Elegant Choices for Hosts
---
Luxurious Velvet Curtains
-26%
1 new from $69.95

1 used from $57.24

Free shipping
Last update was on:
Ready Made: Package includes 2 panels of W52"x L120"(132cm x 304cm) each | W104"x L120"(264cm x 304cm) in total. Each panel has 8 solid grommets (1.6" inner) which fit most standard rods.
Luxury Look: These velvet curtains feature silky-smooth touch and beautiful drape sense, which creates a warm elegant feeling to rooms.
Light Dimming: Thick and heavy velvet drapes can block most sunlight to create a dark and cozy environment to better TV viewing or sleeping. Meanwhile, resisting summer heat & winter chill to lower cost.
---
Gorgeous Linen Textured Curtains for the Living Room
Last update was on:
Blackout curtains block 90-99% of the light, protecting your privacy while retaining natural light.
2 Panels, 8 Grommets with 1.6" inner diameter. Each panel 52x84''.
Polyester curtains with linen texture leaves a soft glow in the room.
Thermal insulated window curtains keep both heat and cold outside.
Machine washable in cold water. Iron on low heat. Please do not tumble dry, bleach or dry clean.
---
Sturdy & Elegant Blackout Curtains for Windows
1 new from $46.95

Free shipping
Last update was on:
Ready Made: 2 panels per package. Each Classic Lined Curtain measures 52" wide x 95" long (Total width is 104"). 2.7-inch rod pockets are recommended with no greater than a 1.7-inch rod for maximum movement. Create pleats easily, adding decorative style.
100% Blackout: Sew in black liner backing makes the drapes thick enough to completely keep out the 100% SUNLIGHT and UV RAY. The greatest benefit is to offer you a real dark environment, bringing you a good night's sleep during the day.
---
Window Blinds for Your Airbnb Should Have the Following:
Cordless blinds conforming to CPSC child safety guidelines
Blackout curtains for bedrooms
Light filtering curtains for kitchen, dining, and bathroom
Top-down/ bottom up curtains for bedrooms and bathrooms
Fabric accordion or cellular shades
I'll go into more detail below on these different recommendations.  Depending on the size of your home, blinds can be an expensive investment.  When it comes to your short-term rental, getting the right blinds can help in providing a better guest experience. 
---
Cut The Cord- Or Just Go Buy Cordless Airbnb Blinds
In my Airbnb, I have been restricting children from staying at home. But I'm still concerned with visitors potentially bringing over small children without my knowledge. And although child strangulation by window blind cords are rare, I personally don't want that potential liability.
---
Check Out Our Other Articles On Rentalrecon.com: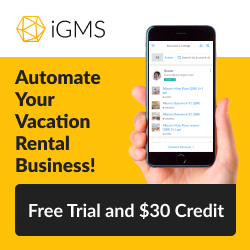 ---
Per the CPSC (Consumer Product Safety Commission) website found here, "After December 15, 2018, products that consumers can pick up in a retail store or order online as ready-made will not contain hazardous cords if the product is compliant with the ANSI/WCMA A100.1-2018 standard. Consumers should look for window coverings that comply with the new voluntary standard." So when I was looking for new window blinds, cordless was at the top of my must-have list.
Cordless blinds are straight forward to operate.  You simply pull up the bottom portion of the window to the desired height.  There may be some dirt build-up from hands on your blinds, but it should be minor. Here are the blinds that we have used in our rentals and they have worked out great:
1 new from $39.99

Last update was on:
PLEASE FOLLOW steps below when ordering. STEP 1: Select your color. STEP 2: Click on the first drop down above the colors and you will see different sizes for that color. For WIDTH pick the width to the inch rounding up. For height if you need 24-48 high any height up to 48 will do. If you need 48 1/8-72 high pick any size you see that is 49 or greater. For example, if you need 30 3/4w x 48 3/4h pick 31 for the width and any size 49 or higher for the height.
Black Out Blinds- A Must Have For Your Short Term Rental
During two of my recent stays, I have had guests complain about light coming into the bedroom from my entry porch light. Luckily, my reviews didn't suffer, but I did add this criteria to my list of must-have items for my next set of blinds. Essentially, blackout blinds are opaque material put inside the blinds that block out sunlight, even during the day.
You can find the blinds that I purchased below:
Cellular Cordless Window Blinds- Blackout Shades
1 new from $39.92

1 used from $37.04

Free shipping
Last update was on:
WINDOW SHADE : Chicology blinds come in multiple fabric colors as light filtering or blackout shades
CORDLESS BLINDS : Cordless pull down blinds made for ease and safety
HONEYCOMB BLINDS : Insulated window shades that prevent heat or cold from entering
WINDOW COVERING : Best as front door blinds , kitchen blinds , blackout shades for bedroom and more
BLINDS & SHADES: These cordless window blinds are true to size. Hardware and instructions provided