**As an Amazon Associate, Rentalrecon.com earns from qualifying purchases.
Even though Airbnb strictly prohibits parties at Airbnb rental properties, sometimes guests still try to break the rules. If you are worried about guests throwing a party at your vacation rental, you may be looking at ways to monitor your property from afar.
Noise monitors like this one are growing in popularity for Airbnb hosts. They allow hosts to know what is going on in their rental while following all Airbnb rules. Most noise monitoring devices don't have cameras or recording capabilities, so they don't violate Airbnb policy.
I tried out several Airbnb noise monitoring devices at my rental property and found the four best products for Airbnb and vacation rentals. Keep reading for my review.
What are the Best Airbnb Noise Monitoring Devices?
Minut - Noise, Occupancy, Motion and Temperature Monitoring for Vacation Rentals (Airbnb, VRBO & Serviced Apartments)
To learn more about the Minut Monitor, click the button>>
Our Top Pick: Minut Home Noise Monitor
Our Review of the Minut Home Noise Monitor
PROS
Monitors volume and duration of noise
Additional monitoring features like motion detection, temperature, and humidity
Rechargeable battery with a six-month lifespan
Easily connects to WIFI
Guest Connect for easy communication
Integrates with Property Management Systems
CONS
Expensive
Requires a monthly subscription
Monitor Noise in Your Airbnb with Minut
The Minut sensor is my top pick for monitoring noise in your Airbnb. This little device is full of valuable tools and features and goes above and beyond just noise monitoring. Now that I have these sensors in all of my Airbnb listings, I don't ever worry about guests throwing parties at my properties.
-13%
1 new from $199.99

Last update was on:
Monitors noise, occupancy, temperature, motion, humidity and mold risk
Detects tamper attempts and recognizes other alarms (such as smoke or CO) going off; equipped with a security alarm and siren
Receive instant notifications, and get insight into real-time and historical data
100% privacy-safe: camera-free, no recordings
Self-install in minutes: download the Minut App, charge and connect to Wifi, attach to the ceiling or wall
What Does Minut Do?
Minut monitors noise, but it also does much more. This sensor monitors motion, occupancy, temperature, and humidity in your home.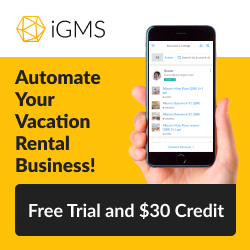 Noise and Occupancy Monitoring
Minut monitors sound in your home and will notify you if it detects loud noises. It has customizable thresholds so you can set quiet hours and decibel ranges. You can also decide how long the noise needs to last before you are notified so you can avoid excess notifications for things like a slammed door.
Occupancy Monitoring
By counting the number of mobile devices at your property, Minut can monitor the number of people in your home. If the number of devices exceeds your preset max, you will get an alert.
Guest Connect
As an Airbnb Superhost, maintaining good communication with my guests is a top priority. I love that Minut has a feature that allows me to send automated messages to my guests for check-in, check-out or if noise is detected. Good communication often solves a noise problem before the issue gets out of hand.
Privacy Safe
Airbnb has strict rules about security cameras and recording in Airbnb rentals. With Minut, you are compliant with all of Airbnb's policies. There are no cameras, and it does not record conversations or store personal data.
If you want to learn more about Airbnb's security camera policies and check out the BEST SECURITY CAMERAS FOR AIRBNB, you can read Rental Recon's in-depth review.
Additional Features of Minut Sensor
The Minut sensor is designed with short-term property rental hosts in mind with the goal of providing the best guest experience possible. I love that I can integrate Minut with my property management system so it will sync my booking information.
Other features include:
Temperature and humidity tracking
Mold risk detection
Climate control
Smart locks
Tamper detection
Minut is perfect for stopping a party at an Airbnb, but it goes one step further and helps hosts give their guests a positive experience.
The Runner Up: Amazon Echo Dot
While many people have an Amazon Echo Dot in their homes, few know just how useful these little devices can be. Adding an Echo Dot to your Airbnb can help you monitor your property and prevent guests from throwing parties at your listing.
-62%
1 new from $14.99

5 used from $11.24

Free shipping
Last update was on:
Meet Echo Dot - Our most compact smart speaker that fits perfectly into small spaces.
Improved speaker quality - Better speaker quality than Echo Dot Gen 2 for richer and louder sound. Pair with a second Echo Dot for stereo sound.
Voice control your music - Stream songs from Amazon Music, Apple Music, Spotify, Sirius XM, and others.
Ready to help - Ask Alexa to play music, answer questions, read the news, check the weather, set alarms, control compatible smart home devices, and more.
What is the Alexa Routines Feature?
Echo Dot, and all Amazon Alexa devices, have a feature called Alexa Routines. This allows the Echo to monitor everyday household noises like barking dogs or breaking glass.
You can program certain sounds to be a trigger for your Echo Dot. Once the sound is detected, your Echo Dot will follow through with a trigger action. For example, you can use a breaking glass as a trigger, and the trigger action is sending a notification to your smartphone.
By using this feature in your Airbnb, you can set your Echo Dot to notify you anytime there are loud noises associated with a party, like loud music, breaking glass, or yelling.
Drop-In Feature
Another feature that the Echo Dot provides that can help prevent parties is the drop-in feature. From your Amazon app, you can "drop-in" to your Echo Dot device to create a two-way intercom.
It is VERY important that hosts respect their guest's privacy, but if a host believes that a party is going on in their rental, the drop-in feature is a good tool to get an idea of what is happening at their house.
Mutiple Uses: Netatmo Smart Monitor
The Netatmo Smart Monitor is an all-in-device that provides Airbnb hosts with monitoring features like air quality, noise, temperature, humidity, and CO2 sensors. While preventing parties at your Airbnb, you can also ensure your guests are comfortable and safe.
2 new from $99.99

Free shipping
Last update was on:
Air quality level, humidity, temperature and noise measurement and ranges from 35 dB to 120 dB
Receive advice on how to create a healthier environment
3 profiles in App: baby, person with asthma, general
Real time Notifications on your smartphone (iOS 9.0 minimum required for iPhone, iPad, iPod, Android 4.2 or later)
Connect multiple Healthy Home Coaches to your smartphone to monitor several rooms.
Top Features of the Netatmo Smart Monitor
This monitor includes some handy features like:
Noise measurement from 35 dB to 120 dB
Three customizable profiles in the app
Real-time notifications
Access to data history
Easy to Use Mobile App
The Netatmo features a great mobile app that is simple to use and provides you with all the data from the monitor. You can set it up to alert you when your home environment changes.
If the noise in your Airbnb suddenly changes from regular conversation tones at 60 decibels to party noises at 80 decibels, you will immediately receive a notification.
Negatives of the Netatmo Smart Monitor
If you are in the home with your monitor, all you need is WIFI and a Bluetooth connection to get alerts and check your data. However, if you want to access the monitor from afar – as most Airbnb hosts do– you will need to purchase the HomeKit hub, which will be an extra expense.
Minut - Noise, Occupancy, Motion and Temperature Monitoring for Vacation Rentals (Airbnb, VRBO & Serviced Apartments)
To learn more about the Minut Monitor, click the button>>
Honorable Mention: Party Squasher Monitor
The Party Squasher Home Monitor is not a noise monitor, but it is a very useful tool to help Airbnb hosts stop parties in a vacation home.
1 new from $249.00

Free shipping
Last update was on:
GET ALERTED BEFORE THE PARTY STARTS — A couple hours usually pass between the time people gather, have a few drinks, and then get noisy. By then, it's too late: neighbors have called the police, red wine is on the carpet, and the party is in full swing! By measuring the number of people at your house, Party Squasher stops the party early, before the noise starts.
TAMPER-PROOF — Unlike noise monitors, the Party Squasher sensor cannot be muffled. The sensor can even be placed in a locked closet. It's compact, robust, and will alert you if it is ever unplugged.
The Party Squasher is a home occupancy monitor that counts the people in your vacation home by counting the number of mobile devices in and around the house. Once the number of detected phones exceeds the preset limit, Party Squasher will send a notification.
Party Squasher is a great option for Airbnb and vacation rental properties because it avoids all privacy concerns that can go along with other sound monitoring devices. This sensor is camera-free, speaker free, doesn't record conversations, and doesn't violate your guests' privacy or Airbnb policy in any way.
As an Airbnb host, it is important to stay up to date on all of Airbnb's policies and rules. For the latest Airbnb Party rules, read RentalRecon's article HERE.