---
**As an Amazon Associate, Rentalrecon.com earns from qualifying purchases.
Through the trials and tribulations of being an Airbnb Superhost, I've have come up with a list of tried-and-true products that work really well for my home. I thought I'd share these products with you in case they are of use.
What is the essential Airbnb list of supplies?
Here is the break down on each Airbnb supply mentioned above:
1. Quality Bed Sheets For Airbnb
These 500 thread count sheets are the ones that I use in my Airbnb. They are durable, haven't faded over time and have luxurious 2-inch sateen stripes. If I need to replace them, they are industry standard so they are easily replaceable.
2. Plush Towels for Airbnb
Plush towels are a must for guests. They needed to be quick-drying and absorbent, and these towels have exceeded my expectations. I started with white towels, but have decided that light grey is more host-friendly as they show less small stains and don't show tiny lint fuzz that may show up over time.
3. Airbnb Coffee Maker
I have a very simple, yet elegant coffee maker that makes an amazing cup of coffee. This model also has a beautiful glass platform with the coffee pods elegantly presented to guests.
4. Black Makeup Washcloths
These black makeup washcloths have been a lifesaver for my Airbnb. Before I bought these, guests were constantly staining my towels with makeup and tanning products. Now I just roll one of these up and place it on top of my towel stack. This really cut down on buying new towels constantly.
5. Super-Fast Airbnb Wi-Fi Router
You'll want to provide your guests with very fast wi-fi service. Part of this is having a very fast router. This one fits the bill, and guests love it.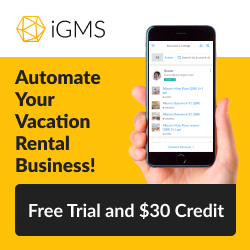 6. Key Lockbox for Airbnb
For now, I've decided to just go old-school with a key lockbox. This one is simple to operate with enough room for two regular sized keys. If I do upgrade to a keypad lock, I'll probably use this one, as I have heard great things about it.
7. Fire Extinguisher for Airbnb
Provide a fire extinguisher in your kitchen. I leave mine on my countertop, but if you decide to conceal it in a cupboard, label it's location on the exterior of the door. I elected for a more expensive extinguisher for added peace of mind.
8. Airbnb First Aid Kit
A first aid kit is an essential item for your Airbnb listing. Place it in an obvious place for easy access, and provide a label identifying the location. This essential should be clearly noted in your listing
9. Airbnb Mattress Protectors
You will want to provide a mattress protector for your beds. This will ensure your mattress stays clean. You really won't want dust mites to bed bugs making a home on your mattress. Make sure the protector is made to protect against bed bugs.
10. Airbnb Pillows- Hypoallergenic
A happy night's sleep for your guests will likely lead to better reviews. So make sure to provide two pillows per bed. This is a requirement is you get to list your property under Airbnb Plus. But it is a good standard even for regular Airbnb listings. Provide one thick, and one thin hypoallergenic pillow for different options for your guest.
11. Airbnb Pillow Protector
Airbnb pillows should be protected against bed bugs as well. Use a good quality pillow protector with a tight zipper.
12. Hypoallergenic Comforter For Airbnb Guests
I love this hypoallergenic comforter. It is light and can be easily washed. I can use it year-round, and I haven't had any guest complaints about the bedding.
13. USB Alarm Clock
Having a USB alarm clock is an essential Airbnb supply. I have one in each of my bedrooms. They have three USB ports so that multiple devices can be charged if needed. There are also outlets right on top of the clock for adapter use.
14. Luggage Rack
An extra place to rest your suitcase will be greatly appreciated by your guests. Place one of these racks in each of your bedrooms. You will also need a place for guests to hang their dresses and dress shirts, so provide closet space, or get a wheeled hanging rack like this one.
15. Shower Walk-Off Mat
Provide a shower walk-off mat in your bathroom. Guests expect that you'll have this creature comfort. I prefer the simple terrycloth type that can be easily thrown into the washing machine with the towels.
16. Toilet Plunger
A toilet plunger is a must for every Airbnb listing. This essential item will cut down on guest calls to the host at 3 am in the morning.
17. Hairdryer
Most guests expect that a hairdryer will be available when they show up for their stay. Mention this essential in your listing, so guests know you will have one available for use.
18. Shower Soap Dispenser
For my Airbnb, I have decided to use a 3-compartment shower soap dispenser mounted to my shower wall. There are compartments for shower gel, shampoo, and conditioner.
This has reduced the expenses and waste of providing individually wrapped soap and small shampoo bottles. Guests are used to seeing these type of dispensers in hotels, and they are easy for cleaners to quickly top off.
19. Carbon Monoxide Detector
I forgot to mention this essential supply. A carbon monoxide detector is a critical item to have to ensure your guests are protected against the silent killer. All homes should have one, whether you have a new or old furnace, as all improperly functioning heating units can leak carbon monoxide.
---
20. Iron (& Ironing Board)
One of the listing options for hosts to select is an iron. I provide both an iron and an ironing board in my Airbnb. This is an essential that every host should have. Guest's clothes will most likely need a little touch up after being in a suitcase for an extended period of time.
21. Hangers & Closet (or Mobile Rack)
After guests have pressed their clothes using your handy iron and ironing board, they will need a place to keep their clothing. Provide hangers, and a closet or at a minimum provide a mobile clothes hanging rack like the one that I have in my Airbnb.
Check Out Our Other Articles on Rental Recon:
---
Related Questions:
Does Airbnb Provide Sheets and Towels?
When hosts fill out their listing, they can select what amenities they have available for guests. If the host doesn't provide amenities like sheets or towels, they just leave that box unchecked. So the bottom line is that hosts are not required to provide those items to their guests.
But if the host checks the "Essentials" box stating they will provide towels (one per guest minimum), bedsheets (one set for each guest bed), soap (for hands and body), toilet paper, and pillows (one per guest minimum), the host must provide them. If they do not provide these items, Airbnb states on their website that the host may be fined, or removed from Airbnb.
Does Airbnb Have Cookware?
When hosts fill out their Airbnb listing, they have the opportunity to select the various amenities that they offer in their home. If they offer their guests the ability to cook meals, they would check the amenities box "Kitchen- Space Where Guests Can Cook Their Own Meals."
Below this area, hosts can check other additional amenity boxes for items available in their kitchen, including microwave, coffee maker, refrigerator, dishwasher, pots & pans, cooking oil, etc.
As with towels and sheets, if the guests states in the listing that these amenities are provided, they must have them available for guest use. If not, Airbnb may fine them or boot them from their platform.
What are the Essentials in Airbnb
Airbnb provides a series of essentials/amenity checkboxes that hosts must review when they fill out their listing. Hosts go through this list and select the amenities that they will have available for guest use. Here is the list of "Common Essentials/ Amenities" as of this writing:
Essentials- Towels, bed sheets, soap, toilet paper, and pillows
Kitchen- Space where guests can cook their own meals
Air Conditioning
Heating- Central Heating or a heater in the listing
Hair Dryer
Hangers
Iron
Washer
Dryer
Hot Water
TV
Indoor Fireplace
Private Entrance
Lock on Bedroom Door
Shampoo
Bed Linens
Extra Pillows and Blankets
Wifi
Ethernet Connection
Laptop Friendly Workspace
Here is the list of "Additional Amenities/ Essentials":
Microwave
Coffee Maker
Refrigerator
Dishwasher
Dishes and Silverware
Cooking Basics
Oven
Stove
Free Parking on Premises
Free Street Parking
Paid Parking Off Premises
Paid Parking on Premises
EV Charger
Gym
Pool
Hot Tub
Single Level Home
BBQ Grill
Patio or Balcony
Garden or Backyard
Breakfast Provided