---
**As an Amazon Associate, Rentalrecon.com earns from qualifying purchases.
After running several Airbnbs for many years, we have identified the best towels for Airbnb and vacation rental hosts. These towels have been thoroughly vetted by us and our cleaners, and we're pleased to share them with other Airbnb hosts. Here they are:
Here are the 5 Best Towels for Airbnb and Vacation Rental Hosts (Including Bath Towels, and Makeup Towels):
Luxury Hotel & Spa Bath Towels: 100% Genuine Turkish Cotton
These are our Favorite Plush, Durable Towels for Your Airbnb or Vacation Rental
Our Top Pick- The Best Luxury Towels for Airbnb: Luxury Hotel and Spa Cotton Bath Towels
What are the best towels for Airbnb hosts? We highly recommend these high-quality Turkish cotton bath towels for our bathrooms.
We have not been disappointed! These towels are durable and have kept their plushness after a couple of years of rigorous bleaching, washing, and drying. They dry at a rapid pace as well. You get four towels for a fairly reasonable price.
Turkish Linens Luxury Hotel & Spa Bath Towels
These are the towels are an awesome addition to any Airbnb or vacation rental. We have rated these towels based on quality, plushness, durability, and value. Here are the results:
PROS
Hold Up Well to Bleaching
Maintain Plushness After Years of Use
Hardly any Loose Strings/ Stitching
Good Value for the Money
CONS
A Little Smaller Than Advertised
Shed Lint During First Wash
-7%
2 new from $41.56

Free shipping
Last update was on:
HIGH-QUALITY TOWELS: These towels are crafted in Turkey with quality cotton that makes them absorbent, soft, and fluffy. These towels fluff up after the first wash, which allows you to feel spa grandeur in the comfort of your own home. The double-stitched hem and natural weave guarantee durability and strength.
OUR DIFFERENCE: Our Premium towels are crafted in Denizli, Turkey, where years of experience culminate to make quality towels you can rely on out of Premium Cotton that speaks for its self.
Turkish cotton towels are the ultimate luxury bath towel. The thick plush fabric absorbs moisture well and, frankly, they look beautiful hanging in the bathroom.
The downside to these Airbnb towels is that you do make an investment that can be ruined by bronzer or a guest who decides to use your bathroom to dye their hair (true story). Read to the end to learn how to protect your investment in your vacation rental.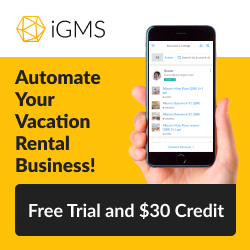 The Best Color Towels for Airbnb
So what are the best color towels for a vacation rental? We always use white towels in our rentals for several reasons. You can learn more about the best color towels for an Airbnb here.
---
Runner Up: 100% Pure Organic Cotton Towels
Organic cotton bath towels are a great ecological choice for your Airbnb. We really loved these 100% Pure Organic Cotton Towels. They looked beautiful in our bathrooms with the waffle weave pattern and plush feel. The bath towels are guaranteed to meet or exceed Global Organic Textile Standards, which is a plus. These are also more cost-effective than Egyptian cotton.
(We have previously noted in our listings that we use organic cotton Airbnb towels. Just a small bit of marketing, but it ads up.)
---
Positive
Great value for the money
Absorbent and dry quickly
Still soft after multiple times washing/ drying
Negatives
Color may bleed during initial washing
May shed during initial washing/ drying
Rental Recon Tip: Airbnb hosts should have an ample supply of backup towels and washcloths available. If a guest stains several towels or decides to take your plush towels home with them, you will want to have extra ones available for your next guest.
Hotel Quality Towels for Airbnb: Turkish Linens Bath Towels
For those looking to provide a luxury or spa experience, consider bright white Turkish Linens. These linens are plush like Egyptian bath towels but a bit smaller in size. An added benefit to white linens is the ability to bleach them if they become stained. Once again, we believe the best color for our hand towels is white, and don't mind replacing some from time to time.
Last update was on:
100% Turkish Cotton. Made in Turkey.
Soft, Luxurious, Durable, Elegant, Absorbent, and Stylish
Dimensions: 27 x 54 Inches, 700+ GSM (grams per square meter)
Machine Washable and Dryable
100% Satisfaction Guaranteed. We proudly believe in our product softness, and quality. So, we offer 30 day money back guarantee. Please enjoy our manufacturing direct price.
Positives
Not too thick and not too thin
Very absorbent
Hold up well after many washing/ drying cycles
Many users say they will buy them again
Quality sewn edge
Negatives
Lose a little plushness over time
Lose a little plushness over time
---
---
Don't Forget the Hand Towels & Wash Cloths
These hand towels have been great for our rentals. They are a little longer than a standard hand towel at 30″x16″. They are super plush, durable, and dry rather quickly. The hand towels come in a package of 6 so they are easy to re-stock. They have been available on Amazon for a long time, so you know they will be available when you need them.
-16%
1 new from $24.99

8 used from $19.99

Free shipping
Last update was on:
HOTEL COLLECTION - 6-Piece Hand Towels are generously Sized at 16x30 inches. Each towel is 100% combed cotton - soft, durable, quick-dry, and wonderfully absorbent. It is more absorbent than any Turkish Cotton Face Towel.
BLISSFUL LUXURY FEEL - At the end of a long day, or at the start of a new one, you deserve a little luxury. Transform your home into a sanctuary and your bathroom into a mini spa with the help of White Classic deliciously soft, comfy elegant towels. Fabulous selection of colors will make your bedroom look like it belongs in a magazine
For washcloths, we recommend the Utopia Cotton Washcloth Set. They come in a pack of 24. These have held up well and are quite inexpensive.
-21%
2 new from $14.99

Free shipping
Last update was on:
WASH CLOTH SET - The pack comprises of washcloths towels each measuring 12 by 12 inches.
OUTSTANDING & LONG-LASTING QUALITY - The towel set is weaved with top-quality 100% ring spun cotton making them attractive and convenient.
OFFERS A COMFY EXPERIENCE – The towels are fabricated to offer a luxurious feel in daily household chores, at the gym, at the spa, at the pool, or simply placed in the guest bedroom.
Makeup Towels for Your Airbnb
As a new host, I learned quickly that guests did not care about your beautiful pure white towels. Bronzer, makeup and other substances constantly ended up on the towels and had to be treated by the cleaners, costing time delays. When I ran across these black makeup towels, I knew this would help with my issue.
2 new from $16.99

Free shipping
Last update was on:
QUALITY MAKEUP REMOVAL CLOTHS: Our Arkwright makeup removing cloth pack is made of super-soft coral fleece microfiber. These Coral Fleece makeup remover washcloths are plush, soft, and quick-drying. Say goodbye to disposable makeup removing wipes with our reusable face cloth set.
DON'T RUIN YOUR WHITE TOWELS: Do not ruin your white towels with makeup stains - use our microfiber makeup eraser cloth set that will won't look shabby or dirty. The charming "Makeup" embroidery sets this makeup remover cloth apart from other bathroom linens.
The Best Beach Towels for Airbnb
Don't forget the beach towel! These Velour Racing Stripe towels will look bright and welcoming spread out on the sand or hanging from the porch. They are a medium-weight towel, which will help reduce drying time in your dryer.
-12%
1 new from $34.99

Free shipping
Last update was on:
100% high quality combed ring spun cotton velour makes our towels feel soft and luxurious on your skin after the beach, pool or shower. The thick, plush texture of velour on one side and the cotton terry loops on the other side makes this a perfect and versatile quick dry, highly absorbent towel. The high quality 100% combed ring spun cotton is used to ensure optimum softness, absorbency durability and very low levels of lint from the towel during washing or use.
Positive
Great value for the money
Retain their color well over time
Not overly bulky for easy transport
Negatives
A little smaller than anticipated
Not extra plush
---
Why are Towels Such an Important Part of Every Airbnb Rental?
Some Airbnb rentals consist of access to only a bedroom and bathroom. Regardless of size – every rental property has access to a bathroom and most guests inspect a bathroom before looking at any other feature of an Airbnb rental. There are several reasons for this.
Often, after travel, guests have an actual need for the bathroom and it is the first room put to use and scrutinized. In this case, nature provides your opportunity for a first impression.
Guests often look at the bathroom first because the bathroom often tells the guest about the quality of the rest of their rental property. This is recognized in popular culture as well as by great hotel managers. Think of how many times you've seen actors swathed in plush terry robes and turban-like towels on their heads to show the quality of the hotel they're staying in.
Parents with small children often take them directly into the bathroom to handle diaper changes or sticky hands when arriving at a new Airbnb. The ease of access and functionality of a bathroom becomes quickly noted.
Finally, the bathroom is where guests judge the cleanliness of the rental. If a bathroom is not clean and well stocked with fresh towels, it will not meet your guest's expectations and it will be reflected in the review process. The bathroom is often your guest's first impression of the rental property.
Therefore, towels are one of the most important purchases for your rental property. They become the hallmark of a well-stocked Airbnb rental. I consider the purchase of towels as equally important as the linens placed on the bed. Maintaining, replacing and buying towels is a skill every Airbnb host should be adept at.
How many Airbnb Towels Do You Need?
I needed to decide on the number of towels for one of our Airbnb rentals. This took some consideration. I wanted to provide enough for each person to shower with but, as experience taught me, the correct number of towels could be a bit complicated.
If near any water, provide beach towels.
Long-staying guests need more towels. I provide a change of towels for guests that stay for more than two days.
Do you allow pets? Make sure there are towels for Spot's muddy paws. I keep a basket by the door when pets visit with poo bags, a lint roller, and several old towels.
Sometimes the turnaround between guests is tight. Have an extra set for days you can't get the laundry washed and dried between visitors.
To answer the question above – one of our vacation rentals sleeps four people so we ensure we have four bath towels, four washcloths, two hand towels, and four "activity" towels in the house as well as any extra towels for pets. We keep another full set clean and stored away for the next guest or to provide new towels for long renters.
Keeping Airbnb Towels Clean
I wanted to ensure there was a way to keep bath towels and other linens clean. The best method was to install a washer and dryer for our guests to use. This helped them stay tidy and gave them a place to place soiled towels so they didn't rest on the carpet or get other things dirty. A few things to keep in mind when you're setting up laundry services.
If you can, provide your Airbnb guests with a washer and dryer to clean up after themselves. The ability of the guest to clean up after themselves makes your rental more efficient.
Have laundry baskets ready for their use. This can protect your other investments, like bed linen and upholstery by giving guests a place to place soiled towels instead of placing them on couches or beds.
If you can't provide a washer, consider setting up a hamper or basket for dirty towels and linens. This serves the same purpose as the laundry baskets. It keeps the rental clean.
Provide scent-free, dye-free laundry pods. Some people are allergic to scents or dyes and pods ensure the proper amount of soap is used.
A laundry line is often appreciated by swimmers to dry towels on. Make sure this line doesn't interfere with views or can become a hazard. It should be out of the way and well-marked.
Airbnb Linen Problems
Life can be an adventure for a vacation rental host, and sometimes that adventure goes wrong. Bath towels often are the first things to be damaged by a careless guest. There are a few things you can do to safeguard against damage and some good news if damage can't be avoided.
Plan on messes. Whether it be barbeque sauce or bright red lipstick, plan ahead and offer cleaning solutions to your guest that doesn't involve those Egyptian towels.
Provide dishtowels and dishcloths for kitchen areas as well as paper towels and disposable wipes for sticky messes. Put these in obvious or visible places. Consider placing makeup wipes in the bathroom to save wear on your washcloths.
Plan for stains. Different stains take different solutions. Martha Stewart provides this handy Stain Removal Basics chart to take the guesswork out of treating stains. I recommend printing it out and hang it in your laundry room with a bin of solvents so you're ready to get that red wine stain under control!
Plan on things wearing out. Our original bath towels are now pet towels. Set aside money from each listing to cover costs associated with wear and tear.
When all else fails, charge the guest for the damage. Airbnb allows you to hold a security deposit and make claims on it if a guest damages property – and this includes towels.
Remember that guest that bleached their hair using our Egyptian towels? All I needed to do was take pictures to make a claim for the replacement value. It was a very simple process but I only go this route if the item can't be fixed some other way.
Part of gaining "Superhost" status is taking care of the details. Towels are definitely part of that process. Having two full sets of towels on hand allows you to quickly change the linens in your rental as well as respond to your Airbnb guests' changing needs.
If you understand your options and rights as a host, you don't need to shy away from making your Airbnb luxurious and providing the best towels and linens you can afford. Better towels last longer, please your guest, and beautify your rental space.
Towels are also a practicality. Providing plenty of towels for a variety of needs is both convenient for your guest and a smart business move for yourself. The more time you spend cleaning your Airbnb, the less money you make per hour.
Towels for the beach and for pets guide your guests in caring for your investment as if it were theirs. Inviting people into your home in hopes that they appreciate it as much as you do is what the Airbnb experience is all about!
Luxury Hotel & Spa Bath Towels: 100% Genuine Turkish Cotton
These are our Favorite Plush, Durable Towels for Your Airbnb or Vacation Rental
---
Related Questions:
What Color Should My Airbnb Towels Be?
White is the best color for bath towels, as you can easily bleach them, and they go with every color scheme. We recommend providing a black makeup towel to cut down on makeup and tanning product stains.
What Other Linens Does My Airbnb Rental Need?
When setting up our Airbnbs, I chose to have duplicate linens for every bed, towel, and dishcloth. You want to be able to set up for the next guest quickly so extra linens are a must!