---
**As an Amazon Associate, Rentalrecon.com earns from qualifying purchases.
---
Stocking a vacation rental can be uniquely challenging, especially if you cater to a wide variety of guests. It can be tricky to please men, women, children, vacationers, business people, and… well, you get the picture. However, providing nice and convenient amenities that enhance the experience for all your guests is an absolute must. 
A commonly overlooked area is the rental's bathroom. This is unfortunate because it's an area where hosts really have to opportunity to shine and show guests that their needs have been anticipated and met. A big part of this is figuring out what soap and shampoo products to offer guests. I'm prepared to share my top recommendations with you today.
So What are the 11 Best Toiletries for Airbnb & Vacation Rentals?
Follow along for an in-depth look at each of these products and why you should definitely include them in your vacation rental!
Puracy Natural Body Wash 
Something that makes my life much easier as an Airbnb host is using a shower dispenser like this one. It has three compartments that I like to stock with shampoo, conditioner, and body wash. It's helpful to either label the container itself or have a handy note in the bathroom or in your house manual explaining what everything is in case someone has a sensitivity.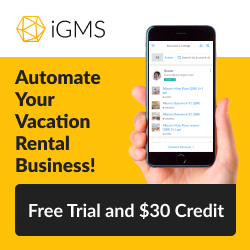 Puracy is a fantastic environmentally friendly company, which is very important to me. Their refills are ideal for shower dispensers as they come in bags with convenient pour spouts which are great for refilling. This 64-ounce shower gel will last a long time and is super gentle and sulfate-free. 
Redken All Soft Shampoo
For salon-quality shampoo that will have your guests wishing they never had to leave the shower, consider Redken's All Soft Shampoo. Formulated with fifteen times more conditioning than other shampoos, it uses natural argan oil to prevent hair breakage and dryness. Gentle enough for even daily use, this top-notch product is handily available in a bulk gallon jug which makes it perfect for use in a shampoo dispenser. 
ECO AMENITIES Individually Wrapped 30ml Hotel Travel Shampoo
I don't use individually wrapped toiletries in my Airbnb due to concerns about waste and the environment, but lots of hosts do as they're very convenient and guests can keep them as a "souvenir". If you choose to use them in your rental, one option I always see in the Airbnb forums is the ECO Amenities Travel Shampoos. At around $24 for a whopping 72 tubes, you're certainly getting your money's worth. The tubes are also recyclable, which is a plus. 
Terra Pure Hotel Size Toiletries Set
For a full range of hotel-like amenities, check out the Terra Pure Hotel Size Toiletries Set. It comes with everything your guests could need including body lotion, body wash, a soap body bar, shampoo, and conditioner, all in compact 1-ounce containers. Green tea scented, these are perfect for creating a tranquil, spa-like environment to relax in. 
Fig & Olive Luxury Body Wash By C'EST LA VIE
If your style is more minimalist and you want your amenities to reflect it, the C'est La Vie Fig & Olive Luxury Body Wash is perfect. Its sleek black and white packaging looks classy and matches just about any décor, and it is even paraben and cruelty-free. Their eco-responsible packaging will appeal to your environmentally friendly guests, and the premium ingredients such as aloe vera and olive leaf extract contribute to the soap's luxurious feel. 
---
Check Out These Articles on Rental Recon:
---
Eco Botanics Travel-Size Hotel Shampoo
Another excellent environmentally friendly option, the Eco Botanics Travel-Sized Hotel Shampoo was specifically designed with vacation rentals in mind. The formula is enriched with natural and organic ingredients, vegetable-based, and never tested on animals. Even better, the earth-conscious packaging helps alleviate some of the downfalls of individually wrapped products. 
ROOTS AROMATHERAPY Shampoo
For a slightly more luxurious option, the Roots Aromatherapy Shampoo is packaged in a way that invokes images of couture French cosmetics brands. Its eucalyptus tea fragrance appeals to both sexes, and it features no artificial coloring or animal products. It is also vegetable-based and the packaging is recyclable! It is available in both 1-ounce and 1.5-ounce containers, and you can save extra money by purchasing a larger bulk quantity.
OPPEAL Marula Oil Hotel Massage Bar Soap
If you're all set in the shampoo and conditioner department and are looking to finish out your amenity offerings with a luxurious soap, consider the OPPEAL Marula Oil Hotel Massage Bar Soap. Rich with Vitamins C and E, Marula oil is naturally high in palmitic acid which helps protect and moisturize the skin for longer times than other popular oils. The soap comes in a recyclable pouch and is paraben and cruelty-free. Ideal for vacation rental hosts, this bar's massaging bumps will help create a relaxing and luxurious experience for your guests. 
OPPEAL Marula Oil Travel Size Shampoos
Another travel-sized option is the OPPEAL Marula Oil Shampoos. They have slightly classier packaging and are a known brand amongst resort hotels and spas. Their packaging is also recyclable, which both guests and mother nature will appreciate. 
Aveda Hand and Body Lotion
A well-known salon hair products brand, Aveda makes conveniently packaged individual hand and body wash bottles as well. Your guests can enjoy the luxurious experience of a high-quality product in your rental and can even take it home with them! The scent is amazing, and the rosemary and peppermint combination leaves skin feeling cool and fresh. 
Bergman Kelly Round Soap Bars, Shampoo and Conditioner 3 Piece Set
Lastly, Bergman Kelly makes an awesome three-piece set that includes a shampoo, conditioner, and bar of soap in coordinating scents and packaging. This helps create a cohesive look and feel to your guest bathroom and is perfect for the occasional forgetful guest as it includes absolutely everything they'll need. 
Related Questions:
How many towels do I need for a vacation rental?
Consider how many rooms your rental has and how many guests typically stay there at a time. I always recommend, at a minimum, two bath towels per guest as well as a reasonable supply of hand towels placed throughout the rental.
Another factor that influences this is what type of rental you operate. If it's typically one or two day stays in a high-rise apartment, the standard number of towels should suffice. If you run a beach rental, then it's safe to say that your guests are going to need a lot more towels. Consider that this also means you'll need to replace them a lot more frequently, so make sure you have a good supply ready to go. 
Which items leave the biggest impact on guests during their stay?
In my experience, it can be the littlest things that leave the biggest impressions. Complimentary items like mints, water bottles, toiletries and more can make guests feel extra welcome and remind them that you've been thinking of their needs. Of course, having a well-stocked rental is most important of all. My bathroom essentials article covers all these items and more in greater depth.