**As an Amazon Associate, Rentalrecon.com earns from qualifying purchases.
As an Airbnb host, furnishing your rental properties can be difficult, especially when choosing a bed frame. You need to find a quality product that can withstand the daily wear and tear that rental property furniture often endures. Usually, Airbnb hosts are also working within a tight budget.
The 7 Best Bed Frames for an Airbnb are:
The Zinus Suzanne Review
I rated the Zinus Suzanne bedframe using several criteria like sturdiness, quality, noisiness, ease of assembly, value, and storage space. Here are my results:
Our Top Pick: Zinus Suzanne Metal and Wood Platform Bed Frame
After trying multiple bed frames, I found that the Zinus Suzanne bed frame is the best option for a durable, versatile Airbnb bed.
PROS
Made with solid pine and durable steel
No box spring is necessary
Option for a shelve with USB ports
Competitively priced
5-year limited warranty
CONS
Low to the ground
No storage space and may be difficult to clean under
I recently purchased the Zinus Suzanne bed frame to replace an old worn-out bedframe in one of my rental spaces. I needed a simple and neutral-colored bed to match the room's décor, and the Zinus Suzanne was perfect.
This bed frame is made of solid pine and durable steel. The natural wood grain is beautiful. I love that it comes in a variety of options to fit your needs. You can purchase this bed in a twin, full, queen, or king size. It also has the option of either a 37-inch or a 44-inch headboard. You can choose from two finishes, chestnut brown or grey wash, and you can even choose between a footboard or a shelf with USB ports.
When furnishing an Airbnb rental, durable furniture is crucial because it must withstand more wear and tear than the furniture in your own house. I really like that this bed frame has solid components that feel very sturdy and resilient.
It is also essential to make sure you furnish your Airbnb with durable quality mattresses. Check out our article reviewing the three best mattresses for an Airbnb rental.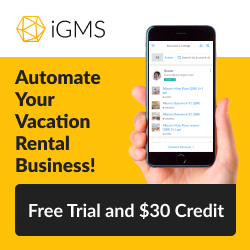 Other notable features include:
Closely spaced wooden slats that are fastened to the frame not only make this bed frame box spring free but also reduces noise
Extremely simple assembly
A 5-year limited warranty
The Zinus Suzanne is competitively priced, and I really feel like I am getting great value for the money with this piece of furniture.
Our Runner Up: HomeLife Premiere Classics Tall Platform Bed with Cloth Headboard
I furnished one of the bedrooms in my Airbnb with the HomeLife Premiere Classics bed frame. The black tufted headboard with silver stud work is the perfect accent piece to finish off any bedroom. I was pleasantly surprised that this headboard was truly black and not faded or dull.
This bed comes in a full, queen, or king-size, and the headboard height is 48 inches. This bed is very sturdy, and it was easy to assemble. The wooden slats on the frame allow you to use this bed frame without a box spring.
Some things that I love about this bed frame:
Elegant design
Very sturdy
Quiet
Doesn't wobble
Looks better in person than online
5-year manufacturer warranty included
The HomeLife Premiere Classics bed frame gives you great value for your money at a very competitive price. It is a quality piece of furniture, and I have received many compliments from my Airbnb guests.
The Most Versitile: Novogratz Bushwick Metal Bed
The Novogratz Bushwick metal bed is a stylish bed that I have in one of my Airbnb rentals. Depending on the color you choose, this can give a room a vintage farmhouse look or a fun modern look. It comes in black, grey, white, brown, and a fun light blue, which I chose.
I love the versatile options this bed provides. You can order it in a regular bed in either twin, full, king, or queen size, but it can also be ordered as a day bed with a trundle or a bunk bed. You can essentially furnish every bedroom in your Airbnb with this style bed.
Some other great features include:
Decorative headboard and footboard
Metal center rail, legs, and slats for support
No need for a box spring
Available in two height options: 6-inch or 11-inch
This bed was simple to put together and is very sturdy. When I lay on it, there is no squeaking, shifting, or wobbling. It looks more expensive in person, and I am very happy with the quality of the bed frame, especially at its competitive price point.
The Best Budget Option: Zinus Omkarum Upholstered Platform Bed Frame:
Zinus is a brand that I have trusted to use in my Airbnb rentals in the past, so when I was looking for a new bed frame for one of the bedrooms, I decided to try the Zinus Omkarum.
This bed frame is upholstered in a gorgeous dark navy-blue fabric. It matched the bedroom I needed it for perfect; however, there are no other color options, so the navy can be limiting. I like that this bed comes in a full, queen, or king size. I generally like to use queen-sized beds in my rentals, but sometimes I need a full size for a smaller bedroom.
Some great features of this platform bed frame include:
47-inch headboard, so it is ideal for thicker mattresses
No box spring is necessary because it has wooden slats that support your mattress
It has a durable steel frame and solid wood legs, so it's built to last
Almost 7 inches of clearance between the floor and bed so you have room for storage
Easy to assembly and includes all parts, tools, and instructions
After assembling this bed, I was so happy to see that it was sturdy and didn't wobble or creak.
Although the headboard has soft foam padding and pretty button-tufted details, it is a little flimsy, so I am concerned about the long-lasting durability of this piece.
The Zinus Omkarum bed frame is very affordable, so it is an excellent option for furnishing your Airbnb rentals on a budget.
Best For Storage: DG Casa Soloman Mid Century Modern Tufted Upholstered Platform Bed Frame
The DG Casa Soloman Bed Frame is a beautiful midcentury modern piece perfect for a bedroom in your Airbnb that may need a little updating. This bed comes with a tufted beige fabric headboard in a queen or a king size. These limited options might not work for every décor, but this is a great fit in a neutral room.
This bed frame comes with sturdy slats, so it does not require a box spring. This is good because any mattress over 10 inches covers up most of the headboard details. DG Casa recommends using an 8 inch or 10-inch mattress with this frame. I used a 10-inch foam mattress on this bed, and it looks great.
This bed frame is great for under-the-bed storage because there is almost 12 inches of space between the floor and the frame. This also makes it very easy to clean underneath.
Some other positives of the DG Casa Soloman bed frame include:
Sturdy wood frame
Durable polyester fabric blend on the headboard
Walnut veneer finish
As much as I like this bed frame, I did find some issues with it that raises some concern. Negatives of this bed frame include:
Very difficult to assemble
The back of the headboard is unfinished, so it must go against a wall
The beige headboard was a darker beige than pictured
Even taking some of the negative aspects into account, I still really love this bed frame and how it looks in my room. It is very sturdy and durable, and I believe it will hold up well over time.
If your Airbnb rental is really a small space and you need extra storage, consider one of these folding guest beds. They are affordable and functional and will allow you to maximize the space in your rental.
---
Check Out Our Other Articles on Rental Recon:
---
Most Sophisticated Style: Zinus Gerard Faux Leather Upholstered Platform Bed Frame
If you're looking to add a touch of sophistication to an Airbnb bedroom, the Zinus Gerard Faux Leather bed frame is a great option. This dark espresso leather bed frame looks great in modern space like a loft apartment in a city.  
This bed frame is especially perfect in a small space because there are almost 10 inches of space between the floor and the bed frame, allowing for ample storage room. This bed comes in a twin, full, queen, king, and California king, so you won't have an issue finding the perfect fit for your room.
I was amazed at how easy this frame was to assemble. The frame is made from sturdy steeland foam padding. Once put together, it looks expensive, and it is very sturdy.
The Zinus Gerard bed frame also has the following features:
Durable wood slats, so there is no need for a box spring
Vertical stitching in the headboard for a sleek, sophisticated look
I do have some concerns about the faux leather headboard holding up over time. Sometimes faux leather peels and cracks with age. I also don't like that the legs are plastic, not wood. I am not sure how long the plastic legs will last with the wear and tear beds endure in rental properties. For the price point of this bed frame, I feel like Zinus skimped on the quality of the bed frame legs.

The Farmhouse Option: Victorian Vintage Style Platform Metal Bed Frame
If you are going for a farmhouse feel in your Airbnb, the Victorian Vintage Style bed frame is the perfect bed for your space. This metal frame comes in a sanded black, so it looks like a genuine antique bed. The powder coating will also prevent rusting. The frame is heavy-duty and high quality and is supported by ten legs. I was surprised at how heavy the box it was shipped in was!
Some things that really stood out for me about this bed frame include:
High quality and durability
Effortless assembly and ships in one flat box
12 inches of storage space under the bed is perfect for small rooms and for cleaning underneath
It can be used with or without a box spring, depending on your preference
One year manufacturer warranty and free replacement parts
Assembling this bed was difficult and required some patience. I put it together alone, and it took just over two hours. One thing I am concerned about is whether this bed frame will be noisy. All the pieces are tightened using a hex key and will probably need to be periodically checked and tightened. This can lead to a noisy, wobbly bed frame.
The Victorian Vintage Style Platform bed frame is priced very affordable and is perfect if you need a stylish bed frame for your rental property on a budget.
If vintage farmhouse isn't your Airbnb style, check our article about some of the best décor ideas for Airbnb rentals.