**As an Amazon Associate, Rentalrecon.com earns from qualifying purchases.
As a host, you always want your guests to feel right at home in your Airbnb. You've surely chosen all the comfiest furniture, the coziest sheets, and the most luxurious amenities you can find. But are you forgetting something?
Coffee! Everyone loves a hot cup of joe first thing in the morning, and the classic old coffeemaker you've always had might not cut it these days. Guests want options, so it's crucial that you have them.
What are my top coffee station ideas to wow your Airbnb guests?
Be sure to add these functional crowd pleasers to your Airbnb's kitchen to make your guests feel like baristas for the day!
Large Coffee Cart
If you've got space to work with, consider adding a larger coffee space by making use of a pre-made stand like this one. Technically billed as a "microwave holder", this functional unit would work great to create a spectacular coffee bar.
I like that it has several shelving heights which add a lot of visual interest. The pullout drawer would be great for holding extra bags of coffee, sugar, and other supplies while the hooks on the side can hold a lot of cute mugs.
What else will you need to fully outfit your Airbnb to provide a Superhost-worthy rental experience? Check out my Ultimate Essentials List HERE!
Other Ideas: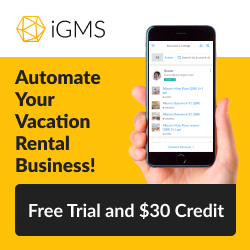 Smaller Coffee Cart
 If your kitchen needs something smaller in scale, one of these ubiquitous rolling carts (à la IKEA cart) will work just fine as well. Super affordable, these don't take up a ton of space in your home or budget and look great just about anywhere.
Again, the three shelves offer plenty of space to store extra supplies, and the top one can be outfitted with a simple flat piece of wood to make it into more of a countertop.
Condiment Bar
Once you've found where you'll put your coffee setup, your next purchase should be a condiment bar. While you can make your own by using a variety of nice containers, I like that this one is self-contained and has spots for just about anything.
If you opt not to offer individual packets of things, you can still use it to organize small jars holding sugar, straws, and stir sticks.
Rental Recon Tip:  Making your Airbnb as homey as possible is what will earn you top reviews and keep your guests coming back for more. After you've secured the ultimate coffee station, ask yourself what else you can do to make your guests feel safe and cozy. Maybe it's finding the right color palette, expanding natural lighting sources, or changing up the fabrics in the living spaces.
Mug Organizer
I like that this stylish mug organizer hangs on the wall like a piece of homemade art. It helps tie together the kitchen space and makes the designated coffee station feel a little bit more "official".
If you opt for a display organizer like this one, make sure your mugs stand out as well! You can use a classic all-white set to keep things simple, or show off your eclectic mug collection to guests.
Keurig
A Keurig is a household staple nowadays. Guests love how easy it is for them to pop in a K-cup and enjoy a hot cup of coffee in minutes. Hosts love them because they're easy to clean and hard to break!
I personally love how you can stock lots of different flavored pods to use so that there's always something that someone will like. Just be sure to keep up on topping off the water reserve and cleaning regularly.
Already have a Keurig, or want to see if your current coffee situation is up to par? Come check out Rental Recon's best coffee makers for Airbnb!
K-Cup Holder
I use a K-cup carousel like this one to display my coffee pod offerings to guests. It's almost like a decorative item because it shows off all the fun, brightly colored packaging. Also, everyone loves spinning it around!
The downside to having your K-cups on display is that you have to make sure they're well-stocked at all times or it starts to look a little wonky. It's not too big of an issue, though, and your guests will definitely appreciate your effort.
---
Check Out Our Other Articles on Rental Recon:
---
French Press
This easy to use (and clean) French press is fantastic for when you want to offer your guests a more specialized way to make their morning brew. Not everyone will know how (or want) to use it, so a little instructions manual next to it on your coffee cart definitely wouldn't hurt.
This one comes with everything you'll need to get started including a measuring spoon, cleaning brush, and even a milk frother! Coffee-minded guests will absolutely love that you've put the effort into giving them an extra-special way to enjoy their coffee.
Airtight Coffee Container
Any coffee drinker knows that airtight storage for ground coffee is a must-have. This container looks great and is ultra-durable, so it's perfect for your Airbnb's coffee station. It hold 16 volumetric ounces, which is a large enough amount that you won't have to be constantly refilling it but not so large that the coffee will get stale before it's all gone.
It's available in several attractive colors like black, blue, stainless steel, and even rose gold! It also comes with a handy measuring spoon and a one-way carbon dioxide valve to keep things extra-fresh.
Fun, Durable Mugs
I try and use restaurant-quality mugs in my Airbnb. I don't like having to replace things after just a few bookings, and so much ceramic wear just isn't built to withstand heavy-duty use.
I try and find durable and fun accent mugs that have character and are closely tied to my home's location and theme. Here are a couple examples of cabin and beach themed mugs.
What else makes a good vacation rental kitchen tool? In short, something durable, functional, and eye-catching. Check out my list of kitchen essentials HERE!