---
**As an Amazon Associate, Rentalrecon.com earns from qualifying purchases.
Your guests might be on vacation, but they'll still want a taste of home! When they're done sampling the local cuisine, having the ability to whip up a great meal for the family is an absolute necessity for a vacation rental. 
You've probably put a lot of thought into the furniture and amenities of your rental, but what about when it comes to the kitchen? A few paper plates and a microwave aren't going to cut it for most guests, so I'm here to share my top recommendations for vacation rental pots, pans, and cookware. 
What are the best pots, pans, and cookware for a vacation rental?
Cookware:
Pots:
Pans:
---
Must-Have Vacation Rental Cookware
T-fal C836SD Ultimate Stainless Steel Copper Bottom 13 PC Cookware Set
If you're starting with absolutely nothing and looking the get your vacation rental's kitchen swell-stocked, I highly recommend this cookware set. It has absolutely everything a guest could need to cook a gourmet meal (and then some!). These 13 pieces appointed with attractive copper detailing will look stunning in any kitchen. 
Each piece is suitable for stovetop cooking, as well as with induction burners and in the oven up to a whopping 500 degrees! They're also dishwasher safe, so no messy cleanup for you or your guests. 
Rachael Ray Cucina Nonstick Cookware Pots and Pans Set, 12 Piece
If you like your kitchen to be as spunky and full of personality as you are, check out this colorful and fun set by Rachael Ray. A matching set always looks great, and this one even comes with a slotted spoon and spatula. 
GreenLife Soft Grip 16pc Ceramic Non-Stick Cookware Set
Another colorful and fun number, this nonstick cookware set by GreenLife comes in several audacious and eye-catching varieties. Several saucepan sizes come standard to fit everyone's needs, as well as a few cooking spoons and even a steamer basket. 
Best in "Class": Gotham Steel Premium Hammered Cookware
My personal favorite, Gotham's hammered pots and pans can be a standalone cookware set or accent your existing fully outfitted rental's kitchen. A super trendy and classy hammered copper exterior will elevate the cooking experience and satisfy even the most finicky of chefs.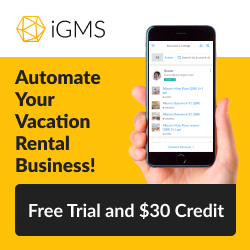 ---
Our Picks For Best Vacation Rental Pots
Utopia Kitchen 2 Quart Nonstick Saucepan with Glass Lid
A good sauce pot is the heart of every kitchen. I love this one by Utopia! It's big enough to fit a larger quantity of something (such as a batch of soup) yet compact enough to store away nicely in a tight space. The nonstick surface is a must-have to avoid messy, complicated cleanups, and it's even dishwasher safe!
Bonus: You can save a bit by purchasing in a pack of 6. This might seem excessive, but stocking a few in your rental's kitchen isn't a bad idea. It also makes it less of a hassle to replace when one inevitably gets damaged or scratched up. 
Gotham Steel 5 Quart Multipurpose Pasta Pot with Strainer Lid & Twist and Lock Handles
Pasta is everyone's favorite "easy" meal, so a quality pasta pot is a must-have for any vacation rental. This one by Gotham Steel features a classy copper inner surface that is nonstick and very conductive, meaning it boils water much faster and looks great when hanging above the stove. 
The twist and lock handles are a fantastic safety feature as well, and the lid doubles as a strainer so you won't need a colander! 
Oster Sangerfield Stainless Steel Cookware, 3.0-Quart Casserole Set w/Steamer Insert
For those with gourmand guests, this set with steamer insert will set your rental's kitchen apart from the rest. Steamed veggies are a healthy and low-effort meal or side dish, and this stainless steel set matches just about any kitchen's interior. You can also use the bottom portion as a standalone pot. 
Our Favorite Pick for Style: Lodge Enameled Cast Iron Dutch Oven With Stainless Steel Knob and Loop Handles
Dutch ovens are almost status symbols nowadays, but you don't have to spend an arm and a leg to have a nice looking one sitting atop your stove. This one by Lodge looks sharp with its red exterior and stainless steel handles, but it is also available in a wide swath of different colors and finishes so there is sure to be one to match your style.  
Wondering what else you'll need to outfit your dream vacation rental? Check out my Essentials article HERE!
---
Check Out Our Other Articles on Rental Recon:
---
Don't Miss Out on These Vacation Rental Pans!
Utopia Kitchen Nonstick Frying Pan Set
This frying pan set by Utopia is great for a host that's starting from scratch and needs to stock up on cookware. It includes 3 pieces of varying sizes, all of which feature high-quality induction bottoms that are suitable for any stovetop. They're nonstick for a no-fuss cleanup. 
12″ Stone Earth Frying Pan by Ozeri
I love the way that this earthen frying pan by Ozeri looks on my hanging pots and pans rack. Its speckled coating sets it apart from the rest of my kitchen supplies, and guests love that it is nonstick without using harsh chemical coatings. It's very heavy and feels super high class!
Our Pick for Tight Budgets: Carote 8 Inch Non-stick Frying Pan Skillet
A penny pincher's dream, this cute non-stick frying pan features a similar speckled coating at a fraction of the price. The wooden handle looks very natural, even bohemian, and would look amazing styled with some similar looking earthenware. It's lightweight and compact, perfect for a small kitchen. 
Lodge Pre-Seasoned Cast Iron Skillet
The cast iron skillet is an enduring favorite, and it's no wonder why! They last forever and you can cook just about anything in them. They do require a little more maintenance than some other cookware, but most guests know and appreciate this. I like that this one comes pre-seasoned and ready to go right out of the box!
Rental Recon Tip: Finding great cooking supplies for your vacation rental is about striking a balance between price point, functionality, and durability. Don't be afraid to spend a little more up front to get something that lasts longer and works better. Don't forget to make sure you have every item on the kitchen supplies checklist!
Ever wondered about the safety of allowing strangers to cook inside of your home? Read up on safety issues here!