---
**As an Amazon Associate, Rentalrecon.com earns from qualifying purchases.
---
As Airbnb hosts, we are constantly striving to meet the needs of our guests while optimizing our own time and host-related expenses. A recurring point of discussion amongst hosts is how to elevate the part of the experience that guests are really paying for: the bed. Moreover, how can we ensure that guests have a 5-star stay and minimize our time spent laundering or replacing our linens? As a Superhost, I am excited to share my recommendations with you!
What are the best blankets for Airbnb hosts?
By the end of this article, you should have everything you need to assemble a cozy, 5-star, Superhost-worthy room that will make your guests never want to leave!
Linenspa Reversible Quilted Duvet
A good duvet is a must-have in any climate, even warmer ones. Although guests may not always choose to sleep under it, a duvet still serves as a landing point in a room. The bed is what guests' eyes are drawn to upon entering, and it is what will make the most powerful first impression.
Guests will drop luggage, souvenirs, and belongings on top of the bed after a long day of travel or shopping. Of course, they'll also use the top of the bed for lounging and relaxing. This is why a durable, easy-to-wash duvet that maintains a stylish look is such an important piece in any Airbnb.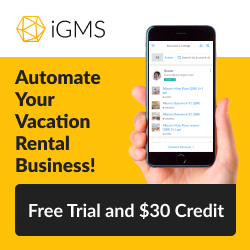 3 new from $39.99

1 used from $19.45

Free shipping
Last update was on:
Ultra soft, all season microfiber comforter with 8 built in corner and side loops to secure your favorite duvet cover
Microfiber down alternative fill has a 300 GSM fill weight; Provides the cozy comfort of down without the feathers, odor, and sharp quills
Reversible color design is like two comforters in one to easily match your decor and mood
Box stitch design keeps the fill in place, so comforter maintains a recently fluffed look; Backed by a 3 year
I highly recommend the Linenspa Reversible Down Alternative Quilted Duvet (available on Amazon). It is available in a plethora of colors that will match any décor. All of the varieties are reversible, and most have a solid color on one side and a light striped pattern on the other side. Personally, I love my grey and white striped one. The stripes are subtle enough to not overpower any other patterns I might be showcasing in the room but also provide the slightest bit of contrast that both adds visual interest to my space and hides discoloration.
It also features several discreet loops around the edges which makes it incredibly easy for me to attach a different duvet cover and completely change the look of the room if I want. It is machine washable and made of a hypoallergenic microfiber down alternative which appeals to both eco-friendly guests and those with sensitive skin.
Bedsure Sherpa Microfiber Fleece Blanket
Everybody loves to snuggle down in a luxurious plush blanket after a long day of travel. Unfortunately, sometimes these blankets can be a host's worst nightmare from a maintenance perspective (I once lost my favorite plush fleece blanket to a fluffy-lint-fueled explosion in the dryer), but we still need to provide options to keep our guests feeling as comfortable as possible. Luckily, I have a blanket that makes laundry a joy (well, sort of) and keeps your guests feeling like royalty.
1 new from $37.99

1 used from $30.38

Free shipping
Last update was on:
Unique Design Philosophy: Bedsure Dual Sided Super Soft Blanket With Fleece Face And Plush Sherpa Reverse Offers You Different Senses Of Softness To Improve Your Sleep With One Side Of Smooth And Fluffy To The Other - Bring You Ultimate Soft And Warmth With 220 Gsm Fleece Top And 260 Gsm Sherpa Reverse Blanket - Bound Together With Decorative Knit-Trim Edging For A Superior Appearance.
Fabulous Blanket Benefits: Queen Size Sherpa Blanket For Couch Measures By 90" X 90" Is Perfect For Homeowners With Sophisticated Tastes In Decoration Home - The Fabulous Color Enhances This Blanket With An Elegant And Superior Appearance To Complement Your Room A Chic Feeling - Shield A Layer To Protect Your Luxury Bed And Couch From Dirt And Stain To Keep Them Fresh And Clean.
The Bedsure Sherpa Microfiber Fleece Blanket not only looks great draped over the back of my armchair but also keeps my guests warm and cozy during those frigid Idaho winters. It is available in standard bed sizes, and a twin size works great as a throw blanket. There are a variety of colors, but I think the off-white option provides the most classic look and fits in with nearly any style. This blanket will not shrink over time, even with many washings, and will stay looking good as new for years. As a bonus, the blanket is anti-static, anti-pill, and anti-dryer explosion.
DII 100% Cotton Buffalo Check Throw
Although solids and subtle patterns are certainly crowd pleasers, a little bit of variation will really help set your Airbnb apart. Additionally, a heavy, Sherpa-style blanket is not really appropriate during the summertime or in warmer regions. Guests want something light to cover up with that won't smother them or have them asking you to crank the air conditioning.
-4%
4 new from $14.98

2 used from $13.23

Free shipping
Last update was on:
CONSTRUCTION - Throw measures 50 x 60", made of 100% woven cotton with 2.5" decorative fringe finish that won't unravel in wash
QUALITY IN THE DETAILS - Old-fashioned look with a modern twist, these blankets are durable and versatile. An easy way to add color and texture to freshen your home for spring or warm it up in the winter.
FITS THE RUSTIC, VINTAGE, OR DISTRESSED LOOK - These throws have a very chic and trendy look, throw over a couch, chair, or bed to add a splash of color and provide warmth on a cold night.
The DII Buffalo Check Throw is a classic and stylish checkered blanket that comes in a few differing color patterns like black, red, pink, and red and black. It's definitely not as warm as some other options, but is amazing in more mild climates or as an accent piece atop other fluffier blankets. I personally really enjoy the red and black checkered pattern. It looks great on the foot of the bed in a cabin-style rental and helps evoke the lumberjack vibes that guests love. As it is 100% cotton, remember to wash it on cold and dry without heat if possible. Nobody wants a shrunken throw blanket!
Utopia Bedding Fleece Blanket
For transitional seasons like fall and spring guests will appreciate blanket options that are warm, but not necessarily as heavy duty as some of the others mentioned here. This also applies to more temperate locations where winters are cool, but not necessarily cold.
Basic, middle-of-the-road blankets can be a dime a dozen, but guests can and will notice if you're cutting corners. Don't skimp on something if you can help it, especially not something the guest will be cozying up with for an extended period of time. Fortunately you don't have to break the bank to find great options that guests will love.
The Utopia Bedding Fleece Blanket is absolutely perfect for these scenarios. Although it is a fleece blanket, it is extremely lightweight and breathable. It comes in several colors and with two different trim style: sewn edge or sateen edge. I would recommend the sewn edge for using the blanket as a throw and the sateen edge for using it as a bed linen like I do. The sateen feels luxurious when pulled up to the chin in bed but is a bit distracting when displayed on its own in a room.
Last update was on:
EXTRAVAGANT - Luxurious and elegantly designed Polar Fleece blanket is available in queen size measuring 90 by 90 inches and grey color to give a glamorous look to it
DURABILITY - The 2-sided brushed, 100% polyester, polar fleece fabric and 1-inch hem having double needle stitching to make it highly durable and perfect for snuggling
SUPER WARM - Stay warm and cozy all year long with this extra warm fleece blanket which is best for winter camping, backpacking or for use in an air condition room
Thankfully, this is another option that will not shrink, even after multiple washes. It would be a great idea to purchase two: one for a throw and one for the bed. That way guests can double up if needed (and they probably won't even notice it's the same blanket!).
YnM Weighted Blanket
Part of being a great Airbnb host is staying updated and trendy. After all, most guests will be booking sight-unseen and have to rely on the photos and description of your rental to make their choices. One of the biggest relaxation trends right now is weighted blankets. They claim to reduce stress and anxiety, promote relaxation, and even help you sleep longer and better. We all know that it can be hard to relax in an unfamiliar place, so offering guests an amenity like this is sure to make your rental all the more appealing.
8 new from $59.80

1 used from $44.07

Free shipping
Last update was on:
The original YnM weighted blanket offers a natural way to help calm your body for a restful night of sleep; great calming sensory blanket for adults and children to help decompress and provide comfort
Made with multiple layers and smaller compartments (4.7''x4.7'') for maximum comfort that contours to the shape of your body
Our unique 7-layer structure is designed to keep you comfortable and cool, allowing the glass beads to provide temperature control
The YnM Weighted Blanket is the priciest recommendation I'll be making today, but it is certainly worth the investment. In fact, compared to its competitors, it is priced very affordably. It comes in dozens of sizes, weights, and patterns, so there is definitely an option perfect for your space. Even better, it has a three-year warranty so that if any damage occurs the manufacturer will repair it for free! The ability to offer your renters such a luxurious perk is sure to attract even more busy travelers seeking relaxation to your Airbnb.
---
Check Out These Other Articles on Rental Recon:
---
---
Related Questions:
How many blankets is too many?
In my rental, I always make sure the bed has 3 blankets minimum: a sheet, another blanket (usually fleece), and a duvet comforter. I also always make sure to include a stylish throw on the end of the bed as a functional accent piece. If there is a chair in the room, especially a comfy chair, I would make sure to have a throw nicely placed along the back of that as well. Essentially, anywhere a guest might land in the room should have a blanket easily accessible.
Is it better to choose patterns or solid colors?
You know what looks best in your rental and what style you're curating. As a general rule, I would only include one pattern on an accent piece as large as a blanket and make sure the rest are solid colors. Visual overload can make the room appear smaller and less well-thought out. If you do have multiple patterns, make sure they are in the same color family to maintain a cohesive look that isn't overwhelming.