**As an Amazon Associate, Rentalrecon.com earns from qualifying purchases.
Go To Recommend Tools >>
The bedroom is, without a doubt, the star of any Airbnb rental. In fact, some hosts only rent out the bedroom, making it even more important that the room impresses guests and exceeds their expectations. Guests know that they'll be getting a bed to sleep in and a place to stay, but what will make your rental stand out amongst countless other options available?
We've all had the experience of staying in a cold, impersonal hotel room. Your guests had this option as well, but they chose your Airbnb instead! How can we, as hosts, ensure that guests know they made the right choice? As a longtime Superhost, I'm happy to share my top recommendations so that you can make your Airbnb's bedroom the best it can be. 
Here are Our Recommended Airbnb Bedroom Essentials for Hosts:

Functional Items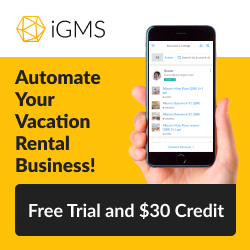 ---
Clothes Iron
Ironing Board
Clothes Hangers
Safe
Power Strip
Nightlight
Accessories
---
Throw Blankets
Curtains
White Noise Machine
Water Bottles
Deadbolt Lock
Tissues
Complementary Extras
Keep reading for an in-depth look on how to make your Airbnb's bedroom Superhost-worthy!
Airbnb Bedroom Furniture Essentials
A luggage rack might evoke hotel vibes for some, but they really do come in handy for travelling. Guests with heavy suitcases will appreciate being able to set them up and not having to dig around for their belongings in a pile on the floor. This one folds up nicely and can be stored away out of sight when not in use. 
This upholstered platform bed is a perfect example of the kind of furniture you should aim for in your Airbnb's bedroom. It has a classy, stylish look and isn't too bright, but the upholstered headboard keeps things looking soft and comfortable. Make sure that your bed's size accurately reflects the number of people you state it can accommodate, and remember that a minimum of two pillows per guest is required for Airbnb Plus!
Rental Recon Tip: Be sure to select a bed size that is appropriate for the size of the bedroom. While larger sized beds are always appreciated, an inordinately large bed easily crowds a room and doesn't create a relaxing environment. An additional air mattress is good to offer if your room is more suited to a twin or full size bed. 
Having an elegant lamp on the bedside table is a no-brainer. However, you can actually kill two birds with one stone by making sure things serve multiple purposes. This lamp has both USB and standard outlets built-in, making it ideal for guests to charge their phones or work from their laptops while relaxing in bed. Its multiple outlets mean it can even be placed on a table between two beds so it can be shared. 
A television in the bedroom is an expectation among renters these days, but that doesn't mean it has to be an insanely expensive or high-tech model. This affordable option works with Alexa and has a built-in Roku, making it an excellent Smart TV option. It is high-definition but still a relatively compact size, so it's a great television for on top of a dresser or small table. 
A full-length mirror is an absolute necessity in a bedroom, even if you already offer one in the bathroom or somewhere else in the rental. Guests will need to be able to check their outfits, makeup, and more quickly, easily, and without walking to a different room. An over-the-door option is great for tight spaces, or an oversized one in a nice frame can be a gorgeous statement piece if your bedroom is lacking in décor. 
Storage can come in many forms and is what really makes guests feel at home in an Airbnb. A standard dresser allows guests to move their belongings out of their luggage and into their temporary room pretty easily. Storage in a bedside table is also a good idea. This is where you can keep extras like books or magazines, as well as charging cables, batteries, and earplugs (more on these later!). 
In a smaller room with less space for bulky furniture, under-the-bed storage bins work great. Also, make sure your closet space (if offered) works efficiently. Consider multi-tiered hangers, shoe storage, and hooks on the door to make sure guests can get the most out of the space. 
---
Check Out Our Other Articles on Rental Recon:
---
Functional Items for Your Airbnb's Bedroom
In any rental situation, a good mattress protector is a must. It has the obvious benefit of protecting your nice comfy mattress from anything guests might get on it, but it also in turn provides them with a fresh, clean base layer to sleep on. 
This one by Linenspa is waterproof and features a zipper closure, so your mattress will stay 100% protected. It is also dust mite proof and hypoallergenic, just in case your mattress isn't (but it should be if at all possible!). Hypoallergenic linens of all sorts are pretty much a necessity in order to make sure your guests have a comfortable stay. 
Pillow protectors like these will serve the same purpose as a mattress protector, although you'll probably want to change these out more frequently. Wet hair, saliva, makeup and more all pose a threat to your carefully purchased, fluffy pillows.
Without an adequate shield layer, you'll be in for some costly replacements sooner than you'd like. The cotton terry surface of these pillow protectors keeps them waterproof and noiseless, perfect for a restful night's sleep. They're also bedbug-proof to keep you protected from any unwanted pests. 
It's fairly obvious that you'll need some high quality bed sheets for your Airbnb's bedroom. This is the part of the bed that guests will notice the most, so it's definitely not something to skimp on. Thankfully, this 100% bamboo sheet set is incredibly soft and durable. 
The material is anti-pill, hypoallergenic, helps regulate body temperature, and is very environmentally friendly. With every color of the rainbow available, there's sure to be a set to match your bedroom's look. I, however, always stick to a classic white sheet set. 
Rental Recon Tip: All-white linens make your life as a host so much easier. Things can be washed together and easily bleach clean and stain-free. They also always have a clean, fresh, and classic look that appeals to guests of all demographics. To ensure you always have a clean set on hand, make sure to purchase your sets in multiples and purchase similar-looking items if necessary. If you need to make a quick replacement, no one will even notice!
An extra-comfortable mattress topper can turn even a mediocre mattress into a memorable one. They last a very long time (especially under your mattress protector) and are relatively inexpensive to replace when the time comes. They also have the added bonus of saving wear and tear on the mattress itself, further extending its longevity.
This topper by Red Nomad is a thick four inches of made-in-the-USA memory foam that features a cooling pad design to make sure your guests are always comfortable. 
If the USB lamp mentioned previously is a little high-tech for your tastes, you should at least consider having a USB alarm clock on the nightstand. Similar to the lamp, this device allows multiple guests to charge their devices at the same time in one convenient location. Since you'll definitely want to include an alarm clock as well as a charging station in your Airbnb bedroom anyway, this all-in-one device is a no-brainer. 
This alarm clock features 3 USB ports as well as 2 standard AC outlets, allowing guests to charge up to five devices at once. It features built-in surge protection and was specifically designed with hotel or rental use in mind. 
As we've discussed, making sure all the linens in your Airbnb are hypoallergenic is extremely important. Don't skimp out on larger items either, and make sure you have a hypoallergenic comforter like this one.
This super-affordable duvet can be used as either an insert or a standalone comforter. Its plush, down-alternative fill keeps the weight and comfort of a feather comforter without the itchy quills or maintenance. Consider having a few options on hand so you can rotate your room's color palette easily. 
In order to satisfy Airbnb Plus requirements, hosts must provide a minimum of two pillows per guest. Hypoallergenic pillows are a cost-effective way to meet these requirements and keep your guests comfortable. They feature a box-stitched seam so they'll lie flat, keeping back and stomach sleepers happy. Even better, they can be easily machine washed and dried. Just make sure you don't forget the pillow protectors! 
Providing amenities like a clothes iron and an ironing board can really help make your guests feel secure knowing that they have all the comforts and conveniences of home while staying at your Airbnb. A folding ironing board can easily fit into any closet space (or even under the bed) and be brought out when needed. If it suits your room, you can even use the kind that mount to the back of a door. 
Clothes hangers are unfortunately an extremely common item missing in many Airbnbs. All the closet space in the world won't make a difference if guests have no way to use it! Make sure you have at least a few nice hangers available.
Rental Recon Tip: Go above and beyond expectations by providing a full suite of clothes storage and cleaning options. An on-site washer and dryer is great if you can provide one, but if when this isn't a realistic option there are still several things you can offer. A mini clothes steamer allows guests to freshen up their outfit, and a few nicer hangers with shoulder support are great for those storing more delicate garments. 
Yet another common hotel amenity, a good safe is absolutely necessary in order to keep your guests' belongings secure and give them the peace of mind they deserve. In a rental where individual rooms are being booked, you should have a safe in each room in addition to a secure lock on each door. 
This model fits neatly in a drawer, so it will be out of sight for your guests and out of mind for any potential thieves. It even has pre-drilled holes so it can be securely fastened to the furniture. With a footprint about the size of a piece of paper, it is the perfect size for storing wallets, passports, personal electronics, and extra money. 
A power strip is something that I always make sure to include in my Airbnb. While standard outlets will certainly get the job done in most situations, nowadays many people travel with multiple electronic devices that need charging. This is especially true if there are multiple people sharing a room. Not only does a power strip keep your guests from having to fight over limited outlet space, most of them also function as surge protectors. This will protect your (and your guests') electronic devices from damage in the unfortunate event of a power outage. 
Nightlights may not be something that most of us have in our homes, but they are always appreciated in a rental environment. The layout of your Airbnb is foreign to your guests, and stumbling around in the dark while trying to find the restroom is never a fun time. Consider leaving one (unplugged) on a nightstand or side table so guests can choose to use it if they want. They're also much more energy-efficient than leaving the lights on in another room!

Airbnb Bedroom Accessory Must-Haves
Throw blankets are something that I harp on in many of my "Essentials" articles, and for good reason. Ambient temperatures and guest preferences can be unpredictable at times, so it's always better to err on the side of being overprepared. I like to include a variety of options, especially if I know there will be more than two people in my rental at a time. You should have a mix of lighter weight and heavier weight options. It's easy to have one or two placed at the end of the bed and store the rest in a linen closet so they can be brought out if needed. 
A heated blanket is an awesome amenity that will really set your Airbnb apart. This is doubly true if you live in a colder climate! People are always concerned about the safety factors involved with electric blankets, but almost all of the newer ones have an automatic shutoff feature that prevents overheating and all the dangers associated with it. 
This blanket has a cozy plush side with four heat settings and turns off after two hours automatically. It's even machine washable!
Curtains are probably something that your Airbnb's bedroom already has, but did you put some thought into what kind you installed? Thin, lacy curtains look great and appeal to everyone, but they do very little to actually block out light and provide privacy. 
Consider laying these thinner curtains on top of thicker, blackout-type curtains to provide more flexibility to your guests. If they want to sleep in after a long night of being out on the town, they'll appreciate being able to keep the room darker. If your unit faces the street or another nearby house, privacy is another important factor to consider. 
Does your Airbnb have a lot of ambient noise? Whether it's from the street, neighbors, nature, or even nothing at all, a white noise machine is another amenity that will help your guests get the best rest possible. There are tons of compact, battery-powered options out there that have a variety of noise choices. 
Offering a lap tray shows your guests that you've put a lot of thought into anticipating their every need. Whether it's a busy person that needs to get some work done after-hours, or someone who just wants to watch their shows or read a book in bed, this lap desk by Homfa is a perfect choice. It has holes cut out to provide cooling air circulation to laptops, as well as a pullout drawer for storing extra items. This is another thing that's very easy to fold up and store in a closet or under the bed when not in use. 
You may have thought of offering water bottles in the kitchen, but many times guests will be reaching for them while relaxing in the bedroom as well. Having a few mini bottles on the nightstand is a great way to allow them to keep relaxing without having to go to a different room to find what they need. Another, more eco-friendly alternative is to have a pitcher and some glasses on the nightstand that can be refilled as needed. 
Rental Recon Tip: If you rent out an individual bedroom, a mini fridge is a super cost-effective way to enhance your guests' experience. Even a small tabletop model has enough room to store some cold drinks, snacks, or leftovers. Many people are apprehensive about sharing a fridge with strangers, so giving them their own dedicated space is a great idea. Some of them are even fridge-microwave combos, which will help save you even more space. 
A sturdy deadbolt lock or similar option is a must-have on all bedroom doors, even if guests are renting out the entire house. Nothing is worse than staying in a strange, new place and feeling insecure in your surroundings. Seeing that you've included a more secure option than just the standard doorknob lock will give guests the peace of mind that they need to be able to unwind. Most of these types of locks can be easily installed with no special skills or equipment required. 
Tissues should be readily available, ideally in multiple places around your Airbnb but especially in the bedroom. Having a full box ready on the bedside table is a good idea. To make your room look a little more polished, find a nice looking tissue box cover at just about any home décor store. 
Complementary extras are probably the best way to make your Airbnb shine. Obviously, everyone with a room to rent is offering a place to stay and all the basics that are expected to come with it. But what makes yours special? What will "wow" guests and have them leaving stellar reviews?
There are tons of inexpensive, relatively easy ways to make your Airbnb feel extra special. Small "freebies", like soaps, shampoos, mints and the like give their stay an extra luxurious feel. Offering small amenities like earplugs might seem unnecessary, but to the guest that really needs them they will be a lifesaver! Always be putting yourself into the shoes of a guest and keep an open line of communication with your renters at all times to ensure that their needs are being met. 
---
Related Questions:
Do I need to have all the same items in every bedroom in my Airbnb? 
In a full-home rental with multiple bedrooms, it's not strictly necessary. Certain things would be nice to include in each room, such as charging stations, nightlights, and tissues, but others would be a little redundant. After all, it's not like your guests will really need 3 or 4 ironing boards!
What if I only rent out individual rooms?
This is a scenario where it might make more sense to include duplicate items. If you are renting to different parties at the same time, it isn't a good idea to only let one room have access to a safe, for example. Make sure that each room can function nicely as its own rental unit. If you're looking to save a little money, consider offering items like an iron or complimentary extras in the communal area of your home so guests can access them as needed.